It's no secret I love anything rose scented. I have ever since I was a little girl and I'm usually wearing a fragrance with some sort of rose base. Rose-derived ingredients are more than just fragrant. They can help ward off signs of aging, even out skintone, and rebalance irritated skin. Therefore you might notice roses are starting to bloom in skincare products thanks to their anti-inflammatory and skin-nourishing properties. I found some of the best rose beauty products.
Rose Beauty Products
Rose oil helps protect the complexion, while rose water can be used to cleanse and soothe. Rosehip oil (which comes from the fruit of the rose plant), dates back centuries; Egyptians, Mayans, and Native Americans used it for its healing powers. That's because it's packed with vitamin C and essential fatty acids which can improve skin tone and give you a refreshed look. Additionally, rosehip oil is ultra-moisturizing and rich in vitamin A (a natural retinol), so it may even help ward off signs of premature aging, such as fine lines and dark spots. So I ask, what's not to love about roses?
Best Rose Beauty Products To Try
YES! I LOOK FORWARD TO #GROWINGYOUNGER
PLEASE SUBSCRIBE ME TO YOUR MAILING LIST.
Here are 11 rose-infused skincare products I am loving and ones you should try yourself:
1. Fresh Rose & Hyaluronic Acid Deep Hydration Moisturizer, $42
This amazing lightweight moisturizer acts like a moisture magnet, attracting and increasing hydration for up to 24 hours. This gel-cream also contains rosewater, rose flower oil, angelica leaf extract and vitamin E to quench and soothe dry skin.
2. Cuerpa Rose Cactus Hydrating Face Mist, $32
This hydrating face mist is specially created with delicately distilled rose petal, and prickly pear that help to revive dehydrated skin. It's also infused with herbal and botanical extracts (hyaluronic acid, aloe vera and hibiscus flower) which will brighten, tone, and soften all skin types. I keep mine in the fridge and spray it on to clean skin all summer long for a boots in hydration. It smells amazing.
3. Korres Wild Rose Night-Brightening Sleeping Facial, $48
Go to sleep with this on and wake up to softer and smoother skin by morning. It's like an overnight facial in a jar! Vitamin C and wild rose extract visibly improves dull, uneven tone.
4. Lancome Exfoliating Rose Sugar Scrub, $25
This warming facial sugar scrub will win you over for its gentle exfoliation abilities. Infused with sugar grains, rose water and honey, it removes impurities and dead skin cells for a healthy, radiant and rosy glow and a smooth, even skintone.
5. BREYLEE Moisturizing & Hydrating Rose Face Serum, $11.99
You can't beat this price for a calming facial serum. It contains pure natural rose extract to deeply penetrate, nourish and condition dry and sensitive skin. Hyaluronic acid helps improve fine lines and dullness caused by dry skin. It's so gentle you can use it on your eyes, hands and neck too! I promise you will love it!
6. Garnier SkinActive Soothing Facial Mist with Rose Water, $6.96
Garnier has an entire line of affordable skincare made with rose water, but this is my favorite. I instantly soothes and comforts skin while gently cleansing and hydrating. No need to rinse and it's ideal for sensitive skin. This rose beauty mist is vegan and made without parabens, dyes or silicones.
7. TULA Probiotic Skin Care Rose Glow & Get It Cooling & Brightening Eye Balm, $30
No sleep? No problem! Dark circles, puffiness and tired-looking eyes will be eradicated with a simple swipe of this eye balm. This caffeine-packed balm wakes up undereyes, while rosehip oil hydrates and improves skin's appearance over time. What's even better? Apply it under or over makeup for pick-me-ups throughout the day.
8. AERIN Rose Lip Conditioner, $30
I don't leave home without this! A nurturing lip conditioner with a calming rose scent. Who couldn't use that during these trying times? Not to mention it has a light nude tint that won't stain your mask.
9. Boscia Rosehip Omega Face Oil, $42
This facial oil contains a powerful combination of ingredients that work together to hydrate, replenish and brighten skin. Rosehip and a blend of powerful oils packed with antioxidants, vitamins and high concentrations of omega fatty acids helps to accelerate skin regeneration and increases collagen and elastin production, leaving skin rejuvenated and more youthful-looking. I blend a couple drops in with my moisturizer.
10. Cuerpa Rose Blanche Body Polish, $42
This luxurious and hydrating body polish is formulated with virgin coconut oil and exotic Moroccan rose. It nourishes, polishes and gently exfoliates dead surface skin cells and reveals that glowing healthy-looking skin. I use it a few times a week in the shower. It's ideal for the days you are going to use your self-tanner.
11. Korres Wild Rose Makeup Melter Cleansing Oil, $28.80
It's vital to remove every trace of makeup and grime at the end of the day. Melt it away with this extra gentle, weightless cleansing oil with real rose petals that removes even waterproof makeup impurities. Enriched with wild rose oil, super vitamin C and almond oil, it rinses off easily and leaves you with a silky-soft, dewy complexion.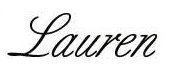 This post contains affiliate links which may give us a commission at no additional cost to you.
Are you following Fountain Of 30 on Facebook, Twitter, Instagram and Pinterest? We've got lots going on, so join in on the fun! Subscribe to our newsletter here. You don't want to miss a post and we promise not to bug you to death. We also started a Facebook Group called Growing Younger for women to discuss everything good and bad about being over 40. Be sure to listen to Lauren talk about all things anti-aging on the new podcast "Beauty is a Bitch!"
Image layout: Fountain Of 30
Please pin!