We are often asked "What jeans are in style?" and this is a big fashion conundrum because women over 50 worry they will look dated. With good reason too, because the one of the first things people do notice are jeans. I think this started back when 'Mom Jeans' were not a good thing. They represented women who had not kept up with the trends and stayed trapped in the past. Nobody wants to be that woman. Did anyone ever think maybe she actually was busy being a mom? I digress.
And now you are hearing that skinny jeans are out? Don't worry, because they are still available and relevant. Retailers know that and we know they still have a place in your wardrobe.
Thankfully today we have so many options, and no one denim style is the only way to look fashionable in jeans. Here are some of the best jeans for women over 50, how to select them for your own body type, how to style them and how to get the best fit.
YES! I LOOK FORWARD TO #GROWINGYOUNGER
PLEASE SUBSCRIBE ME TO YOUR MAILING LIST.
What Are The Best Jeans for Women Over 50?
Fashion has evolved to a point where almost everything is "in" if you wear it with conviction. Some women over 50 may look fabulous sticking with a dark pair of straight leg Levi's or a washed denim boot cut style, both of which are considered denim classics. Yes, you may want to even wear those original reverse denim 'mom jeans' from the 80s which have stayed on trend. Vintage is always in, so you can also wear a pair you already own from a certain era, as long as you own the look! But keep in mind the newer denim, even if it looks like an old style, is made with more comfortable fabrics, often with a tiny percentage of elastin for stretch!
Yet some denim styles are not quite right for women over 50, such as totally distressed and torn jeans with gaping holes. To look more polished (and slimmer as well) darker wash denim, greys, deep solid colors or black are the best ways to go. Some washed denim styles add light and dark shades in the right places that are very flattering as well.

Best Jean Styles Over 50
Skinny Jeans for Women Over 50
Skinny jeans can work on most body types if you treat them more like leggings. In fact, they are a better alternative to leggings for women over 50. This is because denim fabric is more substantial and side stitching and pockets on jeans are flattering details. Skinny jeans also tend to hold you in a bit more than thin leggings and hide any bumps and lumps you may have. And now that high waist styles are everywhere you can have even more tummy control. If you are more bottom heavy, I recommend always wearing something long like a jacket, tunic or sweater over your hips with skinny jeans. If your legs are cone shape (skinny ankles and thicker up top), try boots, either knee-high or medium height for volume at your ankles to balance off your entire look.
Straight Leg Jeans
The skinny jean will always have it's place, but denim is trending back to wider leg styles. Yay! We can breathe! But if you like skinny jeans and are not ready to go for a lot of volume, a straight leg jean is a great compromise. Straight legs balance out wider hips and heavier legs. They also solve the dilemma of what shoes to wear. Ankle booties will fit under straight legs and you can wear classic flats, loafer or heels.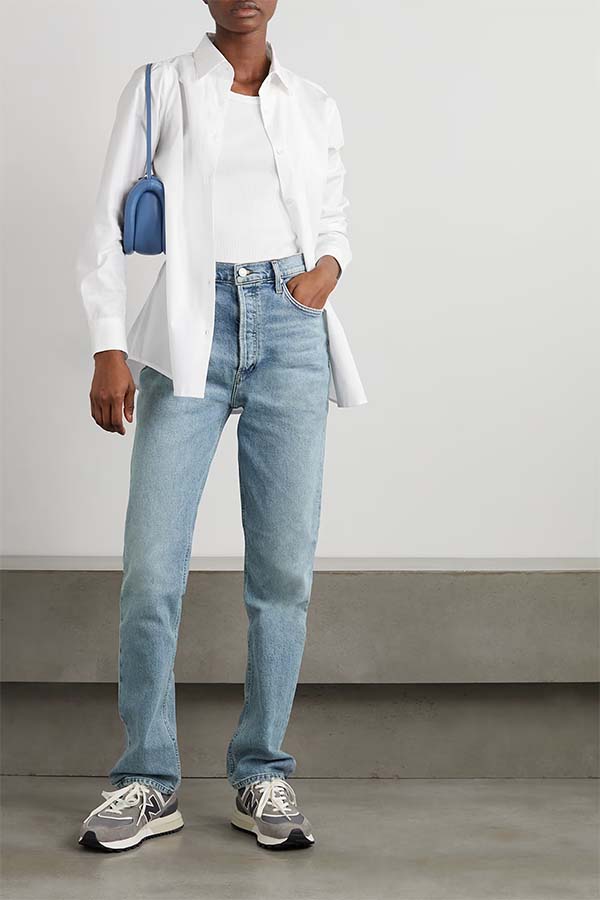 High Waist Jeans
Waistlines on jeans are moving higher, which is great news for women over 50. You will have no more muffin top nor skin showing when you lift up your arms. And these are not the uncomfortable high waist jeans you may remember, because now denim fabrics usually offer stretch! High waist jeans come in all styles from skinny jeans to wide leg. They work for most women over 50 unless your figure is larger busted, short-waisted or petite. In those cases you can try a modified high rise and should avoid super high paper bag waists which will shorten your torso. The styling options for high waist jeans are endless. You can wear sweaters and tops tucked in or out, and either cropped or long jackets with high waist jeans.
Cropped Jeans and Cropped Flare Jeans
Cropped jeans are our summertime heroes! This is because they are a perfect option to shorts for women who prefer to keep their legs covered in warmer weather. And they are not matronly capris!. You can wear them with strappy sandals and slides in summer. And, of course, they are fabulous year round. Wear them in the fall and winter and to show off your favorite booties or heels. Cropped jeans are all about proportions. Wearing them just above the ankle works best for most women. If you are tall, you don't want them much higher because they will look like high waters or like your pants shrunk. And if you are petite, just above the ankle will give you more of an elongated look and won't make you look shorter.
Cropped flare jeans are another ideal option to balance out your proportions. With cropped flares you won't look too top heavy and they will minimize your hips if you have those concerns.
Bootcut Or Flare Jeans for Women Over 50
Bootcut jeans are a classic and I know many women who are amazed at how they elongate the leg. Wear them with higher shoes if you are petite and they look fabulous with cowboy boots or pointy toe shoes or pumps. A blouse or shirt tucked in and belted or a blazer will balance out your proportions with flare leg jeans. You can also wear oversized tops and sweaters out over the waist of flare leg jeans for a more modern look, or try them with sneakers.
Wide Leg Jeans
Wide leg jeans can be super flattering for women because they totally hide your legs whether they are too big, too slim or not of the best proportions. These are a bit different than flares or boot-cut because they are loose around the knees. Style these the same way I recommend for bootcut or flare, only minimize your pieces at the top since these pants have more volume at the bottom. Editor's note: You can wear white jeans year round. Wear them with leather jackets and cozy sweaters in fall and winter.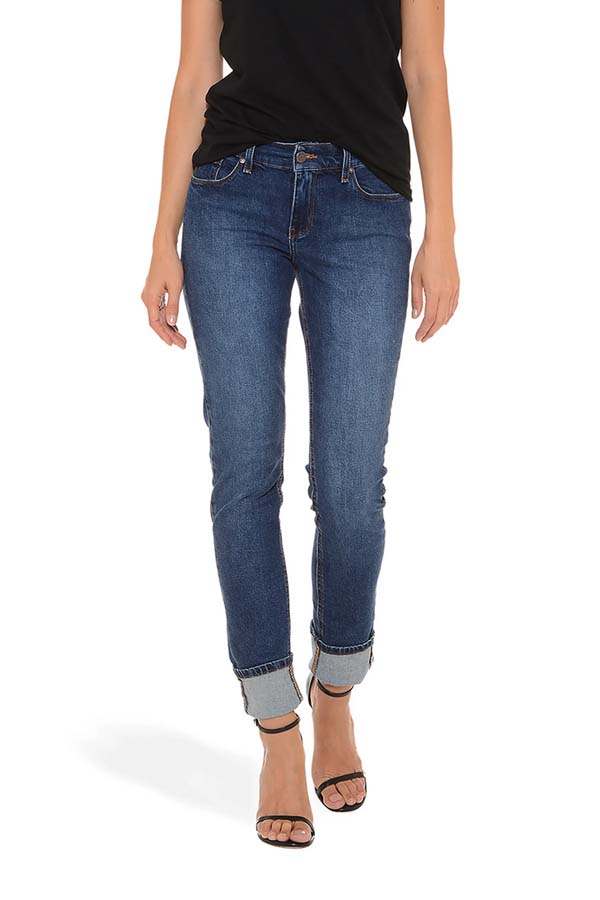 The Boyfriend Jean
Boyfriend (or girlfriend) style denim are loose fitting and super comfortable. Boyfriend styles are more masculine and oversized which actually make you look more feminine and undersized. Girlfriend styles are often less overwhelming and more fitted in the waist and to the curves of a woman's body. You can also find slim boyfriend jeans (like these pictured above from Mott & Bow) which are an easier style to wear. (Use the code LAUREN10 for 10% off first time customers at Mott & Bow). Women over 50 need to wear boyfriend or girlfriend jeans with a bit of caution because they can look sloppy. Wear them with slimmer fitting top and sweaters or a fitted button down shirt to clean up the look. Or add a feminine element of surprise like a pair of girly shoes, a floral or sparkly top, or pearls.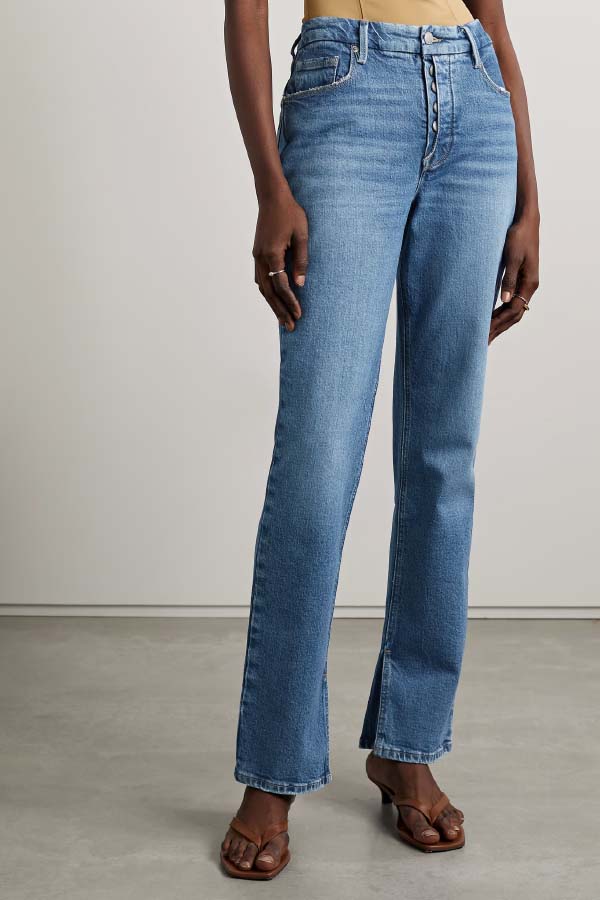 Distressed Denim Jeans
Of course women over 50 can wear distressed denim! Just beware of jeans with too many rips or tears, and of what they are revealing. Do you really want your knee revealed or the skin on your thigh exposed? If your skin is tight and smooth you can wear them, but these are questions only you can answer. We like distressed denim with frayed edges and no holes. If the distressed jeans look like the jeans your teenage daughter would wear, they are probably not sophisticated enough for you. Besides, super distressed jeans are very casual, so they are not always appropriate. Most workplaces, for example, do not allow them. Yet if you do find a pair of distressed denim jeans that fit you well, then go for it! Simply keep the rest of your look "undistressed" with clean pieces. Think of the distressed denim as your texture and avoid wearing other pieces with a lot of details and embellishments.
How To Get The Best Fitting Jeans
Be picky when shopping for jeans and get the proper fit. Try on several pairs of jeans in different styles and sizes. If they are available, make sure you also try them on the exact same pair in the same style and size. The way some denim (not premium) is manufactured and cut from a stack of fabric, you may find them to be up to an inch different in size. Yes this is a dressing room challenge, but there is a silver lining. You can find a pair of jeans that are a perfect fit for you. You don't want your jeans too loose or too tight for a proper fit.
Trying on a bunch of sizes is not as important when it comes to stretch denim or loser styles. In fact, you may not wear only one size. Be creative and try different sizes, too. I have purposely bought a larger size to get more of an oversized look.
Have fun wearing and styling your jeans! Denim jeans have become such an everyday staple and there are so many options available that you can find a style (or several styles) that will make you look and feel your best.
Shop Jeans for Women Over 50

Which is your favorite style jeans for women over 50?

You may also like to read The Best Spring Fashion Trends of 2023 to Buy Now and Wear Now and The New Spring Green Fashion Color Trend for 2023 is Kellycore.
This post contains affiliate links which may give us a commission at no additional cost to you.
Are you following Fountain Of 30 on Facebook, Twitter, Instagram and Pinterest? We've got lots going on, so join in on the fun! Subscribe to our newsletter here. You don't want to miss a post and promise not to bug you to death. Join our Facebook Group called Growing Younger where women discuss everything good and bad about being over 50. Additionally Lauren hosts a bi-weekly podcast called Beauty is a Bitch! and an Instagram Live series called "Growing Younger Gabfest with Lauren."
Please pin!