It may seem early, but Spring 2024 is just around the corner! Before you know it we will be heading into New Year 2024 and wearing the next season's fashion. I took a close look the fashion collections from the New York, London, Milan and Paris recent spring runways and put together a list of 9 of the best Spring 2024 fashion trends for women over 50.
It's always a good idea to look forward when it comes to fashion. You may be planning a warm weather vacation, or want to choose some of these trends when you shop right now. Besides, the new spring fashion will be available to shop in stores and online soon.
Best Spring 2024 Fashion Trends for Women Over 50
So what are the hot new trends for Spring 2024? Some trends that can't be missed are micro-minis, see-thorough open-weave fabrics, and short-shorts with jacket combos. These trends are fabulous for women over 50, right? Wrong! However I am happy to report there are also plenty of totally appropriate trends if you are over 50. It's time to get excited about spring fashion!
YES! I LOOK FORWARD TO #GROWINGYOUNGER
PLEASE SUBSCRIBE ME TO YOUR MAILING LIST.
The best trends for Spring 2024 for women over 50 include Basic Black, Practically Sheer, Statement Belts, Sporty Cool, Tied In Knots, Pretty Volume, Shiny Coats, Major Metallics and Contrasting Styles.
1. Basic Black
All white looks, as usual, graced the Spring 2024 runaways. But equally dominant were all black ensembles and coordinates. Let's face it, basic black is simply more practical as well as collectable too. With all that is going on in the world today, this spring you may want to be more understated and sensible when it comes to fashion and go with basic black. And you can choose from an amazing selection of silhouettes and find a piece that is right for you. From a sculptural and floaty frock from The Row, to a ready-to-conquer jumpsuit from Saint Laurent to a perfectly draped column gown at Givenchy, black is a good investment for spring 2024.
As shown at The Row, Saint Laurent, Givenchy
2. Practically Sheer
Haven't we had enough of the sheer looks on the runways? Finally, this season the designers wised up, and showed us sheer layers over other pieces or with linings (what a concept!), so we don't have to figure out what to wear under their see-through tops or skirts. Prada showed ethereal shift dresses to the knee with floaty sheer organza layers in pretty pastels, Carven did the layering for you with sheer skirts over solid slips, and Saint Laurent showed a breathtakingly flowing chiffon caped gown.
As shown at Prada, Carven, Saint Laurent
3. Statement Belts
If you are a belt person, this is the season for you! The simplest looks were pulled together with eye-catching statement belts. From a hip slung modern art style gold buckle belt at Tom Ford, to a strong wide back leather waist cinching belt at Alaïa to a soft long leather belt with a large organic shaped gold closure at Brandon Maxwell, If you get one new accessory for Spring 2024, make it a belt.
As shown at Tom Ford, Alaïa, Brandon Maxwell
4. Sporty Cool
You can call this sporty chic, but I like to refer to it as sporty cool. Pulled together looks with a sporty edge showed up in many of the collections. Women want movement and comfort and sportswear, like the kind of sportswear you really wear for a sport, mixes well with otherwise serious or work-appropriate pieces. At Gucci, models wore logo-embroidered oversized zip front track jackets over shiny patent leather skirts and heels. The polo shirt, which also reigned supreme as a trend for spring, showed up in a work-ready all black ensemble at Givenchy, and Dries Van Noten offered an interesting twist on the striped rugby shirt, and dressed it up with a crisp pencil skirt and heels with socks (also sporty!)
As shown at Gucci, Givenchy, Dries Van Noten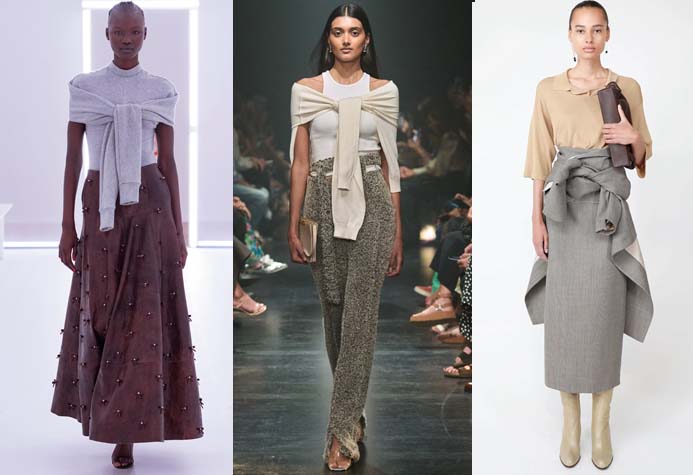 5. Tied In Knots
Looks styled with a sweater or another garment casually tied around the shoulders or waist were shown for Spring 2024. But there were also "built in" knots on tops, sweaters and skirts. This over the shoulders tie is woven right into the sweater at Brandon Maxwell so it won't budge! Or you can casually tie a sweater over your tank and shiny evening pants a la Rokh, or grab your matching blazer and tie it in a sculptural knots around your waist as shown at The Row. This is a trend you can wear right now.
As shown at Brandon Maxwell, Rokh, The Row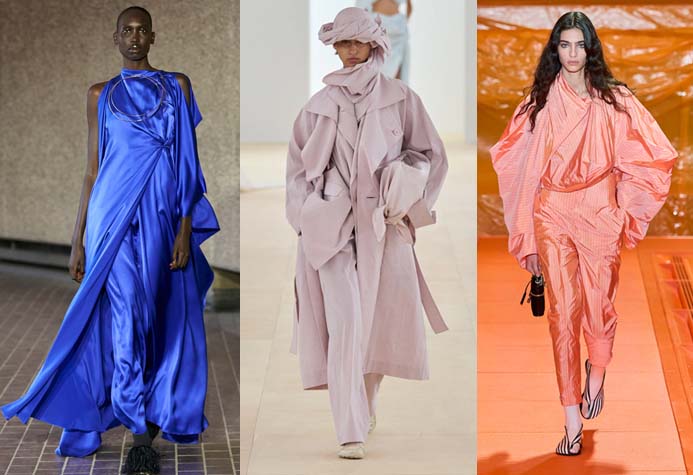 6. Pretty Volume
Each season we tend to see many an oversized sculptural shape (not even recognized as human) walking down the runways. But for Spring 2024, many of the collections offered modified yet voluminous shapes that are actually wearable, and that we would want to wear. I call this trend "Pretty Volume" because the oversized look is actually quite feminine and beautiful. From a gorgeous floating high-volume violet gown at Roksanda, to soft monochromatic separates melted into a soft sculpture, complete with matching hat and bag at Issey Miyake to the oversized soft sleeves on a blouse at Louis Vuitton.
As shown at Roksanda, Issey Miyake, Louis Vuitton
7. Shiny Coats
Every spring season we like to report on the coat trends, and while the trench is always a staple, shiny fancy overcoats were also in abundance for 2024. A satin or embellished coat can dress up any look, from jeans to evening and will add a bright spot to your spring wardrobe. From a bright terra cotta colored coat in a classic menswear cut at Altuzurra, to an open-front pastel pink midi at Givenchy, to a pearl embellished satin high-collared pencil coat at Tory Burch, there is a shiny coat for every woman over 50.
As shown at Altuzarra, Givenchy, Tory Burch
8. Major Metallics
We can call this trend "going for the gold", in light of the Summer Olympics 2024 being in Paris this spring. But besides an abundance of super shiny gold fashion and separates, we also spotted silver, bronze, copper and more metallic colors for spring. Go head-to-toe golden girl chic with a Tom Ford suit jacket, blouse and pants, or just wear silver foil-like pants for a more casual look as shown at The Attico. Or you can go glitzy and glam in a coppery Sally LaPointe sequin asymmetrical skirt with a liquid metallic oversize blouse.
As shown at Tom Ford, The Attico, Lapointe
9. Contrasting Styles
The element of surprise, the yin and yang and the concept that opposites attract are all theories (and ones I live by) for creating stylish and fashionable outfits. For Spring 2024, many of the designers helped us out, and did this kind of styling for us. They showed us unique looks in contrasting styles. Structured denim pants contrasted with a soft and dainty floral petal applique top at Loewe. A preppy-style menswear polo shirt and bomber jackets were worn over girly white ruffle skirts at Miu Miu. And a boxy jacket and menswear stripe shirt worn over a gold sequin skirt at Dreis Van Noten. These runway looks showed us how contrasting styles can surprisingly, work together.
As shown at Loewe, Miu Miiu, Dries Van Noten
Do you have a favorite new trend for Spring 2024?

Sources: Vogue, Who What Wear, W Magazine

Photos: Vogue.com
You may also like to read 9 Of The Best Fall 2023 Fashion Trends For Women Over 50 and 9 of The Best Spring 2023 Fashion Trends for Women Over 50.
Are you following Fountain Of 30 on Facebook, Twitter, Instagram and Pinterest? We've got lots going on, so join in on the fun! Subscribe to our newsletter here. You don't want to miss a post and promise not to bug you to death. Join our Facebook Group called Growing Younger where women discuss everything good and bad about being over 50. Additionally Lauren hosts a bi-weekly podcast called Beauty is a Bitch! and an Instagram Live series called "Growing Younger Gabfest with Lauren."
Please pin!