I have been obsessed with fragrance ever since I can remember. Yet, I never gave a second thought to what I was spraying behind my ears as long as I loved the fragrance. But now that I am older, wiser and more aware, I read labels. So I began to wonder, "What the heck is in my favorite scents?" I was not entirely shocked to find most fragrances on the market today contain harmful chemicals that we should not be breathing in, let alone be putting on our skin. Therefore I got to researching clean, sustainable and non-toxic perfumes.
Clean, Sustainable and Non-toxic Perfumes
Fortunately, more and more companies are making non-toxic scents that we can enjoy every day without risking our health or the planet. But how can we still be wearing toxic perfume in 2023? Well the perfume industry is not regulated by the FDA so they don't need to be transparent and can pretty much put whatever they want in that bottle. What are some of these harmful ingredients? Phthalates, Diethyl phthalate, Synthetic musks, Camphor, Benzaldehyde, Methylene chloride, Benzyl acetate, Ethyl acetate, Limonene, Linalool, Petrochecmicals and more!
I highly recommend you always read the ingredients list and check what the ingredients are in any fragrance before you buy it. And if the company is not transparent and you cannot find what the perfume is made with (even online)…don't buy it.
YES! I LOOK FORWARD TO #GROWINGYOUNGER
PLEASE SUBSCRIBE ME TO YOUR MAILING LIST.
Safer Fragrances: 11 Perfume Brands To Try
Here are 11 perfume brands you should consider if you are looking for cleaner fragrances.
Henry Rose was founded by actress Michelle Pfeiffer and has a large range of eau de parfum from earthy, to spicy to floral. The brand prides itself on 100% transparency and discloses all the ingredients its products contain. Henry Rose perfumes are completely free of carcinogens, endocrine disruptors, parabens, phthalates and formaldehyde.
The perfume bottles are recyclable and made of 90% recycled glass, the caps are produced from sustainably sourced, compostable soy and the boxes made from recycled corrugated paper.
Henry Rose is also Leaping Bunny certified, and is the first to be both EWG verified and Cradle to Cradle certified, which means that it meets the most stringent health and environmental standards. Additionally, the brand has partnered with the Breast Cancer Prevention Partners to give back part of its proceeds to research and advocacy around harmful substances in personal care products. And some of their fragrances have won Allure Best Of Beauty Awards.
I first discovered Heretic at Barney's New York right before they closed. As soon as I smelled Heretic's scent Dirty Grass, I was hooked. It was just an added bonus to me that it was clean and natural. It's still one of my all-time favorite scents.
Heretic considers themselves disruptors of the status quo and dare to be different. Working with naturally-derived botanical ingredients, they create vibrant non-gendered functional fragrances blended in organic non-GMO sugarcane alcohol so you can experience the Ayurvedic benefits of the powerful plant materials.
They use traditional extraction methods, like distillation, expression and extraction, to obtain essential oils, isolates, absolutes and resins from plants and flowers that they blend into their fragrances at high concentrations to bring you the aromatherapy benefits of nature.
Using ancient perfumery traditions and handcrafted in small batches at their Los Angeles studio, these natural fragrances are always vegan and cruelty-free. There is a wide range to chose from, some that are limited-edition and they even did a collab with Goop.
PHLUR has been around since 2015, but in 2021 came under new ownership. Historically, PHLUR is known as a "clean" brand, but they understand that in the beauty industry the word "clean" isn't regulated and can mean many things. So instead of focusing on what ingredients are not in their fragrances, they have elected to focus on the ingredients they have chosen to use and why.
PHLUR, uses both natural and synthetic ingredients. Because while botanical ingredients add character to their fragrances, natural doesn't always equal safer. In some cases, synthetic ingredients can be less allergenic than certain natural ingredients.
Also, harvesting natural ingredients for fine fragrance can require tons of botanicals for a very small amount of material. Therefore, many natural ingredients are at risk of becoming over harvested and endangered. PHLUR partners with the world's leading fragrance suppliers to ensure they are utilizing sustainable natural materials and are being respectful of the environment.
Sustainabile, intentional, transparent, vegan and cruelty-free are all words to describe PHLUR.
Inspired by wanderlust and a desire for balance and simplicity in life, Váhy brings a premium artisanal fragrance collection that people can trust. This women-owned genderless brand was created with organic fragrances and offers luxurious scents made in Australia with natural materials infused in organic sugarcane alcohol.
There are no nasty ingredients in Váhy's sophisticated line of 100% clean fragrances. I have loved every fragrance I have tried from this vegan, cruelty-free, sustainable, green and natural line. Midnight Ruiz is my personal favorite!
A friend turned me on to the brand Skylar and I love it! Skylar produces hypoallergenic, vegan, sustainable and cruelty-free perfumes made in the U.S. Their nature-inspired scents are addictive and smell clean and fresh. You can also layer their scents to to create your own signature fragrance.
Skylar uses an organic sugar cane alcohol base for its perfumes, and lists all its ingredients on its website. Their fragrances are free of skin sensitizers, endangered plant species, phthalates, parabens, and more than 1,300 other questionable toxic ingredients.
Additionally, Skylar's fragrances are also almost entirely made with non-toxic synthetic ingredients as the brand strives to preserve the Earth's natural resources. Additionally, the packaging boxes are made using FSC-certified paper, and both the perfume bottles and caps are 100% recyclable. Skylar even donates a portion of its proceeds to a different charity each month.
When founders Marilou and Caroline become mothers and increasingly health-conscious, they also become more careful about their lifestyle, diet and what they put on their skin. Sound familiar? They realized that they had to give up on fine fragrance when they learned "fragrance" or "perfume" could "hide" components from a list of more than 3000 to 4000 ingredients, including several linked to hormone disruption, increased cancer risks, sensitization and bio-accumulative issues.
So they decided they would try to create the fine fragrances they were looking for themselves. And they also decided that their new fragrances would be EWG-verified for your health, a mark that is difficult to obtain, especially for fine fragrances. But they did it, and can now boast two fine fragrances (Be Rosy and Be Earnest) that are 100% transparent and worry free. They contain no parabens, no fermaldehyde, no phthalates, no known or suspected carcinogens, no known or suspected endocrine disrupters and are vegan.
I discovered this line a couple of years ago at my cousin's boutique and have loved their award winning 11 11 fragrance ever since. That it is clean is just the icing in the cake. All of their products (soy candles and diffusers too) are unisex and paraben, sulfate and phthalate free.
Lake & Skye opts to use natural ingredients whenever possible, including organic sugar cane alcohol in perfumes and 100% soy base in their candles. They are PETA certified and never test on animals. Their products are always vegan and cruelty free.
I love that they also plant a tree for every web order through One Tree Planted, and they use FSC certified packaging for their cartons. There are currently 8 fragrances and one smells better than the next!
By Rosie Jane is an Australian clean beauty brand with a vast selection of sustainably made fragrances. With 8 scents ranging from from sweet to fruity to floral, the perfumes are all formulated with 100% safe, non-toxic and responsibly sourced ingredients. They are also one of the only perfume brands that are climate-neutral certified, and all their products are 100% vegan and Leaping Bunny certified.
By Rosie Jane is extremely transparent about the ingredients it uses for each of its perfumes and you can find all ingredients listed on their website. The eau de parfum is made with organic cane sugar alcohol, and its perfume oils contain organic fractionated coconut oil. Everything is handmade in Los Angeles, comes in 100% recyclable packaging made using wind power, FSC-certified paper and vegetable-based inks.
Since 2010 The 7 Virtues has been making clean, vegan and sustainably sourced fragrance…even before it was cool. This collection of 9 fragrances is hypoallergenic, and made with a combination of sugar cane alcohol and essential oils. Each fragrance is sourced from a different country including Afghanistan, Haiti, Rwanda, Madagascar, India, Egypt and the Middle East. Additionally, the company helps provide education and healthcare to a sustainable cooperative in Madagascar.
That's right, this fragrance is not new. In fact it has been around since 1999, but did you know this iconic scent of gardenia wrapped in white exotics is "clean?" The roll-on oil fragrance version is made with essential oils and is paraben, sulfate, phthalate, phosphate & gluten free. It's also cruelty free and vegan and made in recyclable packaging that is EU compliant.
All Ellis Brooklyn eau de parfums are PETA-certified cruelty-free and vegan. The company was founded on the belief that each ingredient must be tested for its safety, beauty and impact on its environment. That not only means excluding the major toxins we already know about, but also the questionable ingredients that are often widely used in the industry.
There are no silicones, phthalates, dangerous synthetics (some are good and made to be less irritating that it's natural counterpart). So Ellis Brooklyn's philosophy is one of balance: they prefer naturals for their complexity and beauty, but will use synthetics when they are the safer or more sustainable option.
Bet you didn't give your car freshener much thought did you? Neither did I. This car freshener is a scented car diffuser that will make your car smell amazing, and look even better! They are made of 100% fragrance oil, but are completely pet safe. There's no animal testing or anything dangerous to fear here. Unlike most car diffusers that dry out after 3 days like typical paper car fresheners they last for 30-90 days depending on use! There is a vast range of scents to choose from, so get a few!
Do you have a favorite non-toxic perfume?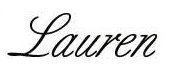 Read some of my other anti-aging beauty posts like Splurge Vs. Steal: The Best Anti-Aging Skincare Edition, Splurge Vs. Steal: 9 of The Best Mascaras and Their Drugstore Twins and 10 Of The Best Pineapple Skincare Products To Try Right Now.
This post contains affiliate links which may give us a commission at no additional cost to you.
Are you following Fountain Of 30 on Facebook, Twitter, Instagram and Pinterest? We've got lots going on, so join in on the fun! Subscribe to our newsletter here. You don't want to miss a post and promise not to bug you to death. We also started a Facebook Group called Growing Younger for women to discuss everything good and bad about being over 40. Additionally Lauren now hosts a podcast called Beauty is a Bitch! and a weekly Instagram Live series called "Growing Younger Gabfest with Lauren."
Please pin!