Guess what? You don't have to spend a ton of money to get enviable lashes. Drugstore mascaras have come a long way since Mabelline's iconic pink and green mascara that everyone swore by but I always thought was…meh. Whether you're looking to thicken, lengthen, curl, lift your eyelashes or simply desire a quality long-wear product that won't fade, run or smudge, drugstore mascara can be your secret weapon. And while you can pay upwards of $30 for a high-end mascara, a fantastic drugstore mascara alternative starts at just about $5.
The Best Mascaras and Drugstore Dupes
But don't be fooled. Not all affordable drugstore mascaras are good. So I did some of the heavy lifting for you and found several incredible dupes for some of the most popular luxury mascaras at my local drugstore and mass retailers like Target and Ulta.
YES! I LOOK FORWARD TO #GROWINGYOUNGER
PLEASE SUBSCRIBE ME TO YOUR MAILING LIST.
1.
Splurge
MAC Cosmetics Macstack Mascara Superstack, $28
Yes, MAC Macstack Mascara Superstack is that amazing. It went viral earlier this year. The micro brush helps deploy this continuously buildable mascara that stacks on infinite layers of volume and length without clumps…coat after coat. In fact I did a Reels on it: https://www.instagram.com/p/CfrMfP7LBF4/. My only complaint is that this mascara is tricky to completely remove without tugging at your eyes (which is a no-no).
Steal
Maybelline Lash Sensational Sky High Mascara, $12.99
I love this mascara! Maybelline's Lash Sensational Sky High mascara delivers full volume and limitless length with an exclusive Flex Tower mascara brush that bends to volumize and extend every single lash from root to tip. It's infused with bamboo extract and fibers for long, full lashes that never get weighed down. To be honest, I actually prefer this mascara because it creates the same dramatic lashes but is much easier to remove.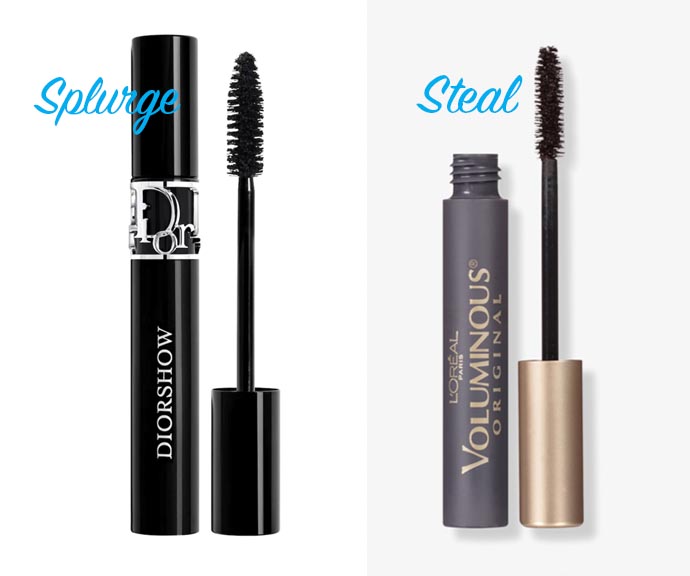 2.
Splurge
Dior Diorshow 24h Buildable Volume Mascara, $29.50
This cult classic mascara is transfer-proof and is composed of 90% natural-origin ingredients and is infused with cornflower extract. I know people swear by it, and I am probably in the minority, but I never loved it. At least I never understood the hype. The brush is just too big for me and I'm not crazy about the formula. So I understood the assignment and searched for a better one. And I am pretty sure I found it.
Steal
L'Oreal Paris Voluminous Original Mascara, $10.99
Grab this volume-boosting mascara at the drugstore and you'll be happier. I promise. It adds up to 5X more volume to the lashes without leaving your lashes feeling hard or looking clumpy. You will love the buildable formula that allows you to add as much drama as you'd like, or apply a single coat if you want lashes that are more natural looking.
3.
Splurge
Lancôme Dèfinicils High Definition Lengthening Mascara, $29
I will always have a soft spot of this mascara. It was the first "high-end" mascara I ever bought because I was told it would not flake into my contact lenses. I loved it so much I was faithful to it for years and years. It's still one of the best. Why? It never clumps. Ever. No matter how much you load on, you just get dramatic lashes and no clumps or flakes. It's iconic.
Steal
L'Oreal Voluminous Volume Building Curved Brush Mascara, $10.99
I almost feel guilty saying this, but this L'Oréal mascara formula is a carbon copy of Dèfinicils. Yes, the brush is curved which you might just like better and this one does not flake either. I tried layers and layers and no flakes, no clumps. Also let's not kid ourselves, L'Oréal owns Lancôme which is basically luxury L'Oréal, so you can assume the formulas are very similar and you won't regret saving your pennies with this steal. At the end of the day it's all going to the same place anyway.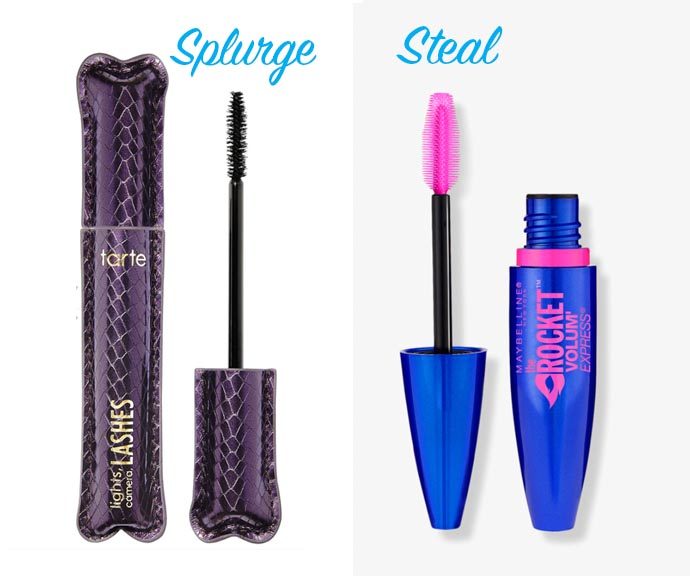 4.
Splurge
Tarte Lights, Camera, Lashes™ 4-in-1 Mascara, $24
This vegan mascara has been one of my absolute favorites since about 2006 when I received one in a gift bag! When anyone asks me which mascara I recommend from Sephora I always say this one. It legit delivers a significant increase in curl while also lengthening, volumizing, and conditioning lashes for 24-hr smudge-proof, flake-free wear. Tarte Lights, Camera, Lashes is perfect for contact wearers. So it's hard for me to deviate. But I will try…
Steal
Maybelline Volum' Express The Rocket Mascara, $9.99
You're going to see this mascara again, but it's the closest dupe I could find to Tarte's. The brush in my opinion isn't as good but the formula is very similar.
5.
Splurge
Hourglass Caution Extreme Lash Mascara, $29
This sleek packaged vegan powerhouse mascara from Hourglass claims to deliver 400% more volume, dramatic length and sky-high lift for extreme lashes. The innovative 4D amplifier brush combines two brushes in one so you get every single lash (even the hard to reach corner ones). I love that it creates drama, yet is weightless.
Steal
essence Lash Princess False Lash Effect Mascara, $4.99
You are not going to believe the smash for the cash of this clean mascara! $5 and it's just as good? How is that even possible? Essence Lash Princess offers dramatic volume, no clumping and it lasts all day. This drugstore dupe makes me giddy!
6.
Splurge
Lancôme Monsieur Big Volumizing Mascara, $27
This volumizing mascara from Lancôme claims you will get a false lash effect with up to 12x more volume. I'm not sure I would say that, but my lashes looked almost fake when I tried it! It was also clump-free which was surprising considering all that volume.
Steal
CoverGirl Exhibitionist Mascara, $7.79
This cruelty-free volumizing mascara glides on smooth to give you bold, thick lashes that stand out with no flaking or smudging. It's the bee's knees and under $10!
7.
Splurge
Too Faced Better Than Sex Volumizing Mascara, $28
This #1 selling mascara from Too Faced has become the holy grail for those looking for a mascara that gives you fuller, longer lashes with a bit of curl. I will never forget my 70+ year-old mother's reaction when I gave her a tube. She was a bit taken aback by the name, but was quickly won over by the formula.
Steal
L' Oreal Voluminous Lash Paradise Mascara, $12.99
This L'Oreal smooth glide mascara has almost the exact same brush and provides silky buildable coverage. This drugstore dupe a dead ringer and in my opinion is totally underrated. And it's less than half the price!

8.
Splurge
Benefit Cosmetics They're Real! Lengthening Mascara, $27
I have a soft spot for this long-wear lengthening mascara from Benefit Cosmetics. It curls, volumizes, lifts, and separates lashes for an "out-of-here" look. I have been using it off and on for years!
Steal
Maybelline Volum' Express The Falsies Mascara, $9.99
Although I don't like this brush as much, Maybelline Volum' Express The Falsies gives the same length and volume and it's less than half the price!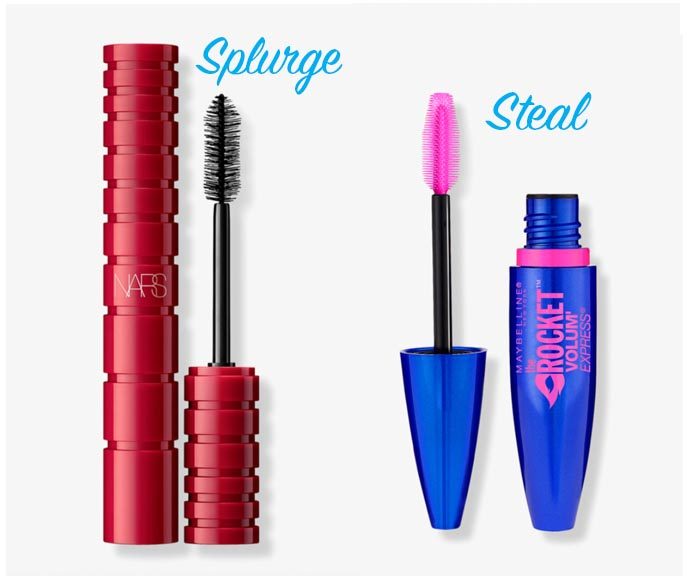 9.
Splurge
NARS Climax Mascara, $25
My mother would have had a field day with this name. But I bet she would have loved the formula from NARS! It feels really light yet creates buildable full lashes. It's also really easy to remove.
Steal
Maybelline Volum' Express The Rocket Mascara, $9.99
An exact match, but I admit I like this one from Maybelline better. Mostly it's the brush that wins the day. It gets every lash and creates major volume. Also the formula is waterproof, which makes it a little harder to remove, but it seriously doesn't budge all day until you take it off.
Do you have a favorite luxury mascara or drugstore dupe? Are you going to try one of the 9 best mascaras I found?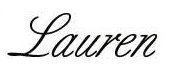 Read some of my other anti-aging beauty posts like Splurge Vs. Steal: The Best Anti-Aging Skincare Edition and Splurge Vs. Steal: The Best Anti-Aging Makeup Foundations Edition.
This post contains affiliate links which may give us a commission at no additional cost to you.
Are you following Fountain Of 30 on Facebook, Twitter, Instagram and Pinterest? We've got lots going on, so join in on the fun! Subscribe to our newsletter here. You don't want to miss a post and promise not to bug you to death. We also started a Facebook Group called Growing Younger for women to discuss everything good and bad about being over 40. Additionally Lauren now hosts a podcast called Beauty is a Bitch! and a weekly Instagram Live series called "Growing Younger Gabfest with Lauren."
Please pin!