My husband and I found ourselves with a day without kids on our most recent trip to Lewiston, NY so we decided to take a trip over the boarder to Canada and check out the wineries in Niagara-on-the-Lake, Ontario. Having grown up on the boarder going to Niagara-on-the-Lake was something I did regularly with my family as a child. Back then it was a quaint small town. Now it's a quaint small town with over 30 wineries! It has literally become the Napa of the Northeast over the past 20 years.
YES! I LOOK FORWARD TO #GROWINGYOUNGER
PLEASE SUBSCRIBE ME TO YOUR MAILING LIST.
A Day Of Wine Tasting in Niagara-on-the-Lake, Canada
Once you cross the bridge (and customs) it takes about 30 minutes to get there from Buffalo and about 15 minutes from the Niagara Falls and Lewiston-Queenston bridges. Since we only had the day and I had to drive we knew we could only see about four wineries so we had to make them count!
Niagara-on-the-Lake has become world-renowned for its wines and is the birthplace of Ontario's modern wine industry. So it's not surprising that winery hopping is now one of the most popular things to do in Niagara-on-the-Lake. You'll see cyclists, tour buses, hotel shuttles and limousines stopping at various vineyards across the region. Niagara-on-the-Lake is  also recognized as the "Prettiest Town" in Canada. The landscape and homes are stunning so be sure to check out the main town as well.  The area is influenced by its proximity to Lake Ontario, Niagara River and Escarpment which is also what makes the region's wines so special.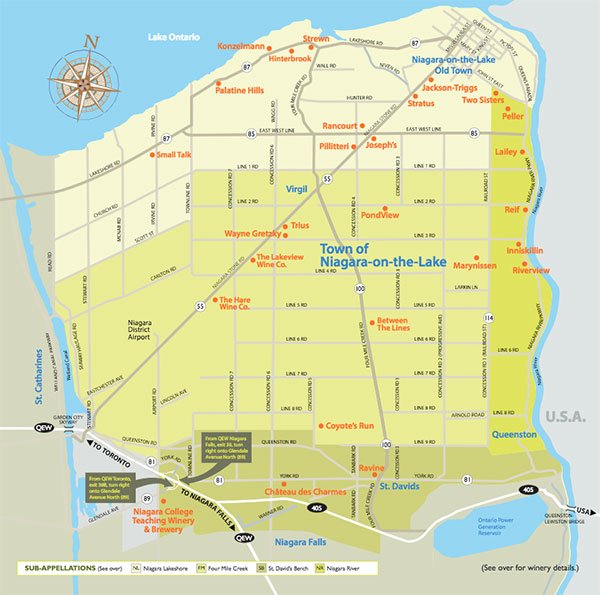 Because it is so large and deep, Lake Ontario has a moderating effect on vineyard temperatures near the shore. The grape growing season is prolonged, often well into autumn, allowing the grape to mature and develop a more constant natural sugar level. The additional moisture and the morning mists and heavy dew in the lakeshore vineyards help the grapes become ultra sweet.
Canada now vies with Germany for the title of world's largest producer of sweet ice wine. Austria, Switzerland and New York's Finger Lakes are other areas that also make ice wine.
More than 75 % of all the ice wine in Canada comes from Ontario. Since Canada has consistently cold winters it guarantees an annual crop of frozen grapes which is what is needed to make ice wine. However, ice wine represents just a small percentage of wine being produced in Ontario because it's very expensive to make. A ton of grapes yields only one-sixth the amount of ice wine as table wine. When the frozen grapes are pressed at just the right temperature (usually immediately after picking) the water is crystallized, and the juice that remains consists of concentrated sugars and flavors. That's why it's called liquid gold and prices start at around $50 for a half-bottle. Yet, more types of grapes are now harvested and the region has overcome it's reputation for the sickeningly sweet wines made in the days when all that grew there were native labrusca grapes.
You will notice many of the wines in the area are called "Vidal" which is actually a hardy hybrid grape that is grown in Canada and the northeastern United States. Vidal can make dry table wines, but its best use is unquestionably for the region's popular ice wine. Floral and fruity aromas are characteristic of all Vidal wines and, in ice wines, the grape has caramel, butterscotch and sweet apricot flavors. So also be sure to check out Reislings, Cabernet Franc and roses. when visiting the wineries.
The one winery I already new about was Inniskillin (I am pretty sure I had been there years before) which was one of the first in the region and is known for their pricey sweet Ice Wines. I thought we should start there and pray someone working there could tell us which other wineries were worth our time.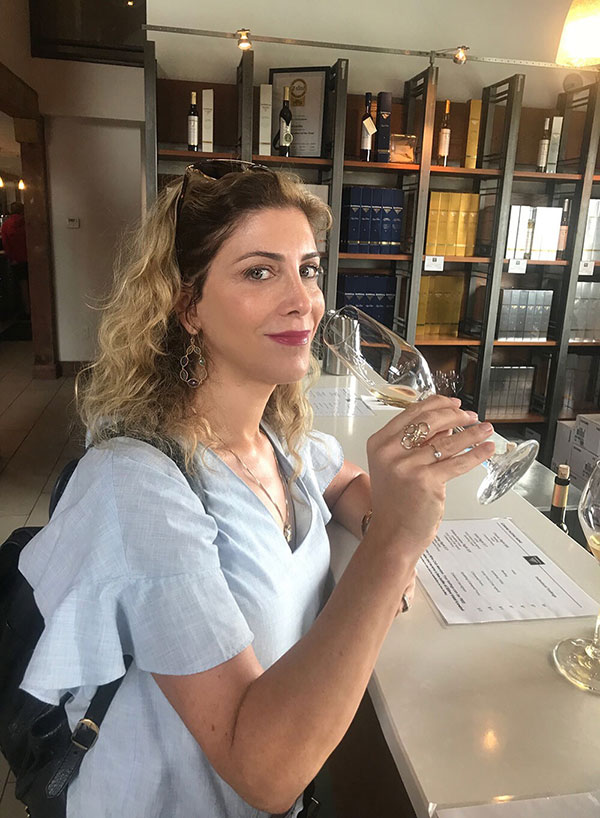 Inniskillin Wines 1499 Line 3 Road, Niagara-on-the-Lake inniskillin.com
Inniskillin is one of the oldest wineries in Niagara-on-the-Lake. and probably the most recognizable in the United States for their Ice Wine. So we tasted a Gold Vida Ice Wine, a 2017 Riesling Ice Wine, and a 2017 Sparkling Ice Wine. Of course the Gold was the sweetest and the most expensive. Since I love champagne the sparkling was my personal favorite.
One thing you'll notice on most of the bottles is the term "VQA" on the label. This means Vintners Quality Alliance, which ensure strict quality assurance that the wine is entirely made from grapes grown in the region.
Inniskillin has one of the larger estates in the region, which features several restored and redesigned historic buildings including the Brae Burn Barn (tasting room) as well as an exclusive dining forum, Founders' Hall. Once home to Inniskillin's French oak ageing barrels, the newly refurbished Founders' Hall provides an exclusive dining forum where guests can enjoy wine inspired cuisine with a view into the modern Demonstration Kitchen.
Thankfully we had a knowledgeable young man pouring for us who brought us a map and pointed out the three other wineries he thought would be the best for us that day.  We followed his advice.
Two Sisters Vineyards 240 John Street East, Niagara-on-the-Lake www.twosistersvineyards.com
Next up was Two Sisters which is a family run winery. A friend of mine had also told me to go there to taste wine and grab lunch since the food is supposed to be amazing. It's a relatively new winery named after the two sisters Angela Marotta and Melissa Marotta-Paolicelli, who own the winery. Since planting vines in 2007, Two Sisters has been ramping up the process of a wonderful range of quality wines in their winery. If I remember correctly their first bottle was ready in 2010 and since 2011 they have been winning awards left and right.
Winemaker Adam Pearce uses French oak barrels, grape blends and innovative fermentation equipment to make wines which have won them awards like "Best Small Winery of the Year 2018." For $10 you get your choice of 3 wines (1 oz. pours). This was actually standard pricing for most of the wineries with exception of their super expensive and/or rare wines. We tasted a 2017 Chardonnay, a 2013 Cabernet Sauvignon and a 2014 Cabernet Franc (red). All were quite delicious and I really wanted to taste a rose too, but it was about 1:30 at this point and with empty stomachs we were starting to feel the wine.
So we headed over to the restaurant called Kitchen76 which was somewhat crowded on the patio overlooking the vineyards, but was completely empty inside. So when I was asked if I had a reservation I was not expecting to be told we could not be served. Say what? Apparently their computer system was down so they were only seating those with reservations. I did not comprehend that so we left and headed into town. Besides I wanted my husband to see the Niagara-on-the-Lake I remembered as a child.
Niagara-on-the-Lake
We grabbed a late lunch at a nondescript restaurant because we wanted to get back to more wineries. However, it should be noted the town was absolutely bustling! Do check out The Prince of Wales Hotel and all the cute shops that line the beautifully manicured and bucolic town.
Konzelmann Estate Winery 1096 Lakeshore Road, Niagara-on-the-Lake konzelmann.ca
Under recommendation from our friend at Inniskillin we stopped at Konzelmann Estate Winery which he told us made very good, reasonably priced wines and an amazing peach wine if you like sweet. I love peaches and sweet so I was game.
The winery was founded by German winemaking pioneer Herbert Konzelmann in 1984. This fourth generation winemaker arrived in Niagara-on-the-Lake, from Stuttgart Germany, with the goal to establish a Canadian winery under the family banner. The single greatest factor in his selecting Niagara-on-the-Lake and specifically the shore of Lake Ontario, was a mesoclimate perfectly suited to Konzelmann wines. Konzelmann's list of national and international awards and accolades are vast, but of special note is the Top 100 selection of the Konzelmann Vidal Icewine by the editors of  Wine Spectator magazine in 2008.

At the winery you can get a Lakefront flight of 3 samples for $5 (those are the less expensive bottles) and a Reserve Flight for $10. Of course we "splurged" on the Reserve and sampled the 2017 Small Batch Reisling, a 2015 Merlot Reserve, a 2016 Vidal Ice Wine and I had to add a sample of the 2016 Peachwine which is made from local peaches and on the Lakefront side of the menu. The Reisling was light, slightly sweet and delicious. Of course I LOVED the ice wine and at it's less than half the price of what a bottle at Inniskillin costs! I was crazy about the Peachwine, my husband? Not so much. When we learned we we would get a $10 credit towards the purchase of a bottle of wine, I walked out with a bottle of Peachwine for $6.96 Canadian!
Wayne Gretzky Estates Winery & Distillery 1219 Niagara Shore Road, Niagara-on-the-Lake gretzkyestateswines.com
Last stop on our trip was Wayne Gretzky Estates, one of the area's newer destinations (since September 2015) which is a winery and distillery. It has a whiskey bar patio and skating rink (a pool with fountain when we visited). I was a little hesitant to go to this estate because it's Wayne Gretzky and how good could his wines, be? However our friend at Inniskillin said the wines were very good, but it was also the only winery in the area with a whiskey distillery. Say no more, we were sold. My husband and I love whiskey.
We can't attest to the wines by winemaker Craig McDonald because we didn't try the wines here. However I hear the 2015 Estate Series Shiraz Cabernet (a blend of 62% Shiraz, 23% Cabernet Sauvignon and 15% Cabernet Franc) is a must. Anyway, we went straight for the distillery side run by Master Distiller Joshua Beach. The whiskey is made from 100% Canadian ingredients, blended, and finished in a Gretzky wine cask. Each bottle of the whisky supports the Wayne Gretzky foundation, which helps youth be equipped to have opportunities to play hockey.
We sampled (again 3 for $10): The Ninety Nine Proof Whisky, The Spirited Wine Muscat, The Spirited Wine Rose (both are called "Grape Spirits" which are considered brandies made like a whiskey). The Muscat was my favorite of the two as it was the smoothest. It smelled of mango and pears, but was light and dry. I loved it. Our pourer made us sample the chilled Canadian Cream Liquor because she said it was a best seller. It was sweet and tasty, making it the perfect dessert spirit. It would be perfect over ice cream. I let my husband finish these samples because I had to drive back. The gift shop can't be missed. Its all things wine, whisky and hockey!
And that was our day of  wine tasting in Niagara-on-the-Lake, Canada. We can't wait to go back and try some others!
For more, please check out Wineries of Niagara-on-the-Lake wineriesofniagaraonthelake.com
Planning a trip to Chicago? Check out EastPicks 5 Best Chicago Attractions Using City Pass.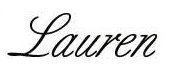 For more travel posts please read; Travel To The Mystical And Magical Peru and Traveling Without Fear: A Western Woman In A Muslim Country
Are you following Fountain Of 30 on Facebook, Twitter, Instagram and Pinterest? We've got lots going on, so join in on the fun! Subscribe to our newsletter here.  You don't want to miss a post and promise not to bug you to death. Oh and we also started a Facebook Group called Aging Backwards! for women to discuss everything good and bad about being over 40.
Photos: Fountain Of 30