When the pandemic hit many women figured out what I already knew…unplugging and air drying is healthier for your hair! I've been air drying for years!
To be completely honest I air dry for the following two reasons. One, I'm lazy and I just don't have time to spend on my curly/wavy hair. Two, I color the hell out of it, so I figure if something has to give for maintaining my hair health, it's going to be heated styling tools. I'm obsessed with my Dyson Airwrap but use it sparingly and only during the cooler months.
YES! I LOOK FORWARD TO #GROWINGYOUNGER
PLEASE SUBSCRIBE ME TO YOUR MAILING LIST.
Air Drying Your Hair
Well now that summer is almost here, if you haven't already done so, this is the perfect time to go unplugged and give your hair a break from blow dryers, wands and any other heated styling tools. Air drying is not only healthier for hair, it's quicker. Now you can spend less time in front of the mirror and more time out having summer fun with your new air-dry hairstyle! You just need the right products!
Interview With A Haircare Expert
I recently had to opportunity to interview Fabian Lliguin who is a New York hairdresser, Environmentalist and Co-founder & President of Rahua Haircare which is a line of pure ingredient hair care products made from rahua oil found deep in the Amazon rainforest.
FO30: Do you see a trend in more air-drying since many salons are no longer blow drying?
FL: Yes, I feel this will be a growing trend, as there is a fear that the blowers could spread viruses through the air. But many salons are now back to blow drying. However, you can always opt not to.
FO30: What is the best type of hair to air dry?
FL: Any type or texture of hair can air dry with the right haircut and the right styling products for your texture and cut. When clients visit the salon, they need to consult their stylist on the proper method to air dry according to their cut, just the way they would have consulted on how to blow out their hair.
FO30: Why is air drying so much better for your hair? And how long will it take to see improvement in hair health?
FL: Excessive heat from curling irons, wands, and the blower can strip the natural oils from the hair and dry it out. Over exposure can damage the structure of the hair and also damage the scalp. Certainly using the right products help to reduce the damage but giving your hair and scalp a break from heat altogether will allow the natural oils to balance the scalp and add moisture to the strands.
If your hair and scalp has been dried out from heat damage and you switch to an air dry routine and apply Rahua Color Full™ Mask every other day. You should see the benefits between 1 – 3 weeks depending on the length of your hair.
Fo30: What products are best for what types of hair?
FL: Examining your hair's needs as well as what you are trying to achieve will determine the products. If your hair is color treated, you'll definitely want to protect that tonal value and the salon (or at home) investment with color preserving cleansing and conditioning products.
Rahua Color Full™ Shampoo, Color Full™ Conditioner and Rahua Color Full™ Mask not only help preserve color, they utilize a plant-derived color protection complex of natural ingredients such as lilac clay to tone highlights and reduce brassiness without any chemicals. Never underestimate the power of "Masking." We're not talking face masks here; we are talking hair masks. These deep penetrating treatments are nourishing and strengthening strands.
Rahua Color Full™ Mask uses our exclusive color protection complex to enhance and protect color. If your hair lacks moisture, you'll want to add hydration back. Rahua Hydration Shampoo and Hydration Conditioner are excellent for anyone needing moisture. On the flip side, if your hair is naturally oily and tends to go flat, you will want to add volume in through a volumizing cleanser and conditioner such as Rahua Voluminous Shampoo and Voluminous Conditioner.
For air drying, styling products are a necessity or otherwise hair will curl, wave or frizz in a direction you don't want it to go. Using styling products will allow you to shape and keep the style and determining the style will heavily influence the product choice. Always begin with a good foundation, and Rahua Control Cream is the perfect choice. Be sure to apply it to towel dried hair. If the hair is too wet, it will dilute the product and you won't reap the benefits.
If your hair has length and you want the look of loose waves, Rahua Enchanted Island Salt Spray is perfect for that beach-y, sexy style. Applied at the roots and you will get great lift. For a more defined look, Rahua Freestyle Texturizer, created with natural carnauba wax and tapioca starch, will give hair natural hold and support.
FO30: What if we don't like the look of air-dried hair?
FL: The good news is that there are many styling options and modern accessories that your choices are limitless. The trick here is to keep the hair strands from mid to ends very healthy. This will give hair the natural direction which allows the style to fall back in place, giving it a nice, air-dried look. Also, for creative purposes you can use headbands, decorative bobby pins, hair clips, and even high end scrunchies are available to make any style chic!
Fabian's 4 Hair Tips To Enjoy The Freedom to Air Dry
Be sure to check out Rahua Haircare!
Shop Products For Air Drying Hair

Do you like to air dry your hair?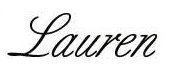 Photos: Lauren Dimet Waters, Gretchen Murcott for Fountain of 30 | all others iStock
Read some of my other beauty posts like The Top Spring 2023 Nail Trends To Try Right Now and Antiaging Beauty: Makeup That Helps You Get Your Glow Back.
This post contains affiliate links which may give us a commission at no additional cost to you.
Are you following Fountain Of 30 on Facebook, Twitter, Instagram and Pinterest? We've got lots going on, so join in on the fun! Subscribe to our newsletter here. You don't want to miss a post and promise not to bug you to death. Join our Facebook Group called Growing Younger where women discuss everything good and bad about being over 50. Additionally Lauren hosts a bi-weekly podcast called Beauty is a Bitch! and an Instagram Live series called "Growing Younger Gabfest with Lauren."
Please pin!