By now you all know I am transparent (to a fault), so I am going to admit something that I've been trying to hide. 10 pounds. I have gained 10 pounds since last year and I'm not happy about it. To make matters worse, the old tricks I used to lose a few extra lbs. quickly are not longer working now that I'm (Lord help me) middle-age. I really detest shape wear because I find it so darn uncomfortable but by all means, this would be the time to break it out. So I am employing all the strategies that take 10 pounds off instantly. Here's how to look slimmer when you are over 40 with tips to find the most flattering clothing for the holidays.
Universally Flattering Clothing Tips

Loosen Up!
This is a trick my mom taught me…wear your clothes a bit loose. She was thin but had the mind of someone 20 pounds heavier when it came to her style. She was always telling me you look heavier if your clothes are too tight. I can just hear her saying, "buy a size up and have it tailored." Luckily the baggy look is in right now, maybe that's because of the Covid-19? Don't wear tight clothing, but not so big it looks sloppy.
Flattering Clothing: V-Necks
Neck details draw the eye up which is just where you want them to go! So look for v-necks to expose a bit of skin. The open, upside-down triangle creates a high focal point up and away from your midsection and gives the illusion of a longer, slimmer upper body. The more skin you display between chin and chest (but not vulgar), the more elongated your proportions will seem overall. Wider V-necklines will visually balance broad hips and thighs. So start collecting everything you can with a v-neck (camis, tees, sweaters, dresses, etc.)
YES! I LOOK FORWARD TO #GROWINGYOUNGER
PLEASE SUBSCRIBE ME TO YOUR MAILING LIST.
Side Ruching
Ruching not only makes you look slimmer, it hides flaws. Does your stomach look a little puffy? Wear ruching. Ruching slims down the figure by hugging and accentuating the narrowest part of your waist. The trick is to make sure the ruching is in the right place which is over the problem area. If it is just below it, you are going to accentuate it. Be sure it is subtle, as too much will have the opposite affect and visually add weight.
Longer Skirts, Dresses and Wide Legged Pants
If you are carrying some extra pounds, mini skirts are not your friend. The less skin you show on your bottom half the better. So look for midi and maxi skirt lengths. The most universally flattering style is the knee-length pencil skirt which creates the illusion of a thinner lower body. Another style to consider is a high waisted flared midi skirt if your shoulders are narrow. With wide leg pants make sure they are well-fitted, hit right at your waist or higher and are a solid color (preferably black). The width of the pants' hemlines will make your waist look more narrow.
Jackets, Wraps or Cardigans
The crisp straight lines and narrow lapels of a blazer counteract excess curves. An open jacket is extra-slimming worn over V-neck tanks and dark-wash jeans. But don't chose bulky fabrics. Flat materials won't add volume (silk, cashmere, wool gaberdine), but bulky materials will (corduroy, mohair, taffeta, flannel, suede, etc.). Do not button the jacket or cardigan and don't tie the wrap. By wearing them open you will create the illusion of being thinner.
Flattering Monochrome Looks
Stick with one color. Tops and bottoms of the same color create an uninterrupted vertical line, making you look thinner and taller. Stark color contrasts between your upper and lower body will draw eyes to your middle. You can never go wrong with all black which is the most slimming monochrome look of them all!
Shop Flattering Clothing For the Holidays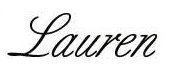 You may also like to read more of Lauren's Styling posts like How To Wear Men's Shoes When You're a Woman and The Most Sought After Shearling Lined Boots You Need To Know About.
This post contains affiliate links which may give us a commission at no additional cost to you.
Are you following Fountain Of 30 on Facebook, Twitter, Instagram and Pinterest? We've got lots going on, so join in on the fun! Subscribe to our newsletter here. You don't want to miss a post and we promise not to bug you to death. We also started a Facebook Group called Growing Younger for women to discuss everything good and bad about being over 40. Be sure to listen to Lauren talk about all things anti-aging on the new podcast "Beauty is a Bitch!"
Please pin!