We are living in historical times. Amidst the global health crisis that is COVID-19, much of America has also decided to stand up and declare #blacklivesmatter, in honor of George Floyd, a black man who died at the hands of a white police officer in Minneapolis, sparking protests to both his death and to police violence against black Americans in the United States. Much of Hollywood has joined the peaceful protests, the social media rants, and the followers that have gone international, yearning for a better world. Stars like Ariana Grande, Ellen Pompeo, Kevin Hart, and Kanye West have attended demonstrations, made donations, and been part of the #BlackoutTuesday movement on Instagram. Many celebrities are taking a stand for justice.
George Clooney penned an essay calling for "systemic change" in the wake of Floyd's death after he defined "anti-black racism as America's true pandemic." Alex Ohanian, founder of Reddit and husband of tennis player Serena Williams resigned from his company's board and called for a black candidate to take his place.
As the protests enter their third week, here are other celebs who are taking a stand in a myriad of different ways.
YES! I LOOK FORWARD TO #GROWINGYOUNGER
PLEASE SUBSCRIBE ME TO YOUR MAILING LIST.
Celebrities Taking A Stand
John Boyega
Perhaps one of the most vocal protestors during this multicultural movement, Star Wars actor John Boyega delivered an impassioned speech during a Black Lives Matter protest in London on May 25. Since that moment, Boyega spoke out for the first time to thank everyone for their "love and support."
Marc Jacobs
While the peaceful protestors have amassed, so too have the looters, smashing windows and destroying shops to send a message. In Los Angeles, stores like Alexander McQueen and Marc Jacobs were vandalized, according to W magazine. Videos on social media showed the Marc Jacobs store on Melrose Ave. had shattered glass doors and a floor cleared of all merchandise. A placard at the entrance to the store had Marc Jacobs' name crossed out.
Rather than berate the looters publicly, Marc Jacobs took the time to highlight the incident, writing on both his personal and professional Instagram that "A life cannot be replaced. Black Lives Matter." The public praised his efforts as a strong way to empathize with the overall message behind the protests.
Billie Eilish
Singer Billie Eilish has 63.9 million followers on Instagram and she's not afraid to use her platform to spread her message. At the end of last month, she denounced the "All Lives Matter" cause in a statement posted to Instagram responding to the death of George Floyd.
The five-time Grammy winner also posted a video to her Instagram story as she took a knee while participating in a peaceful protest in Los Angeles."No one is saying your life doesn't matter," Eilish wrote. "No one is saying your life is not hard. No one is saying literally anything about you." She continued "This is not about you. Stop making everything about you."
"If your friend gets a cut on their arm are you gonna wait to give all your friends a Band-Aid first "because all arms matter?" she wrote."No," she said, adding that you would help your bleeding friend because he or she is pain and in need.
She also posted a video to her Instagram story as she took a knee while participating in a peaceful protest in Los Angeles.
Dwayne "The Rock" Johnson
Besides addressing President Trump in an Instagram post, Dwayne "The Rock" Johnson has also been quite vocal on the "Black Lives Matter" movement sweeping the country. About a week ago, he shared a card that said "I can't breathe – George Floyd" and shared a powerful poetic statement that said that in the past few days "I've been stunned trying to make sense of George Floyd's death. The video. The plea for breath. The callous response. The racism. The killing. This is our ongoing disease."
The Rock mentioned that he had cops in his own family, who were good men and followed the cop code that granted them authority to use force if their lives were in danger – but not if the man was already handcuffed and no longer a threat. He ended the post with the hashtag #JusticeforGeorgeFloyd and #NormalizeEquality.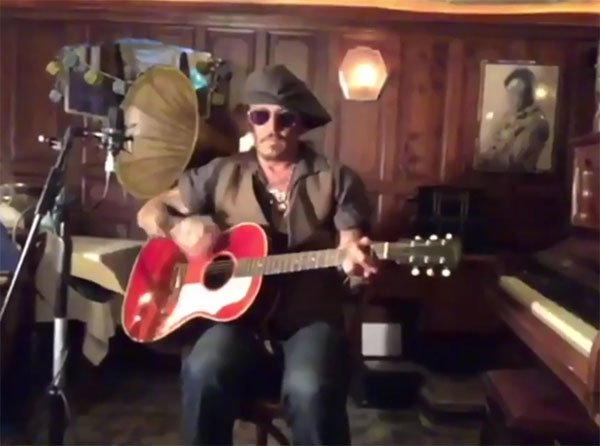 Johnny Depp
Actor Johnny Depp called the death of George Floyd "senseless" and shared a speech by friend and rapper-activist Killer Mike about racism on his Instagram account.
He also shared a video of himself performing Bob Dylan's hit "The Times They Are A Changin'" for his friend's COVID-19 benefit several weeks ago, saying that this moment in time is similar to the moment in history that occurred in 1963 when John F. Kennedy was assassinated. Depp says the song, for him, "applies to the moment we are in" and to "COVID-19" as well as the "life altering[sic] image of George Floyd, forever seared to our brains."
Lili Reinhart
Riverdale actress Lili Reinhart was a proud protestor this month as she also shared during Pride Month the news that she was a "proud" bisexual. A few days later, she posted this message about the "new normal" on her Instagram page. In the phrase, she highlighted the world's changing landscape, which is being uprooted by both the "Black Lives Matter" movement and the coronavirus health crisis, but with the hope of something better coming along.
"We should not long to return, my friends. We are being given the opportunity to stitch a new garment," the statement by Sonya Renee Taylor said, "One that fits all of humanity and nature."
– Simona Shemer
You may also like to read more of Simona's celebrity posts like A Look At The Celebrities In Quarantine and How 7 Celebrities Are Helping During The Pandemic.
Photos: Celebrity Instagram @johnboyega @marcjacobs @billieeilish @therock @JohnnyDepp @lilireinhart
Are you following Fountain Of 30 on Facebook, Twitter, Instagram and Pinterest? We've got lots going on, so join in on the fun! Subscribe to our newsletter here. You don't want to miss a post and we promise not to bug you to death. We also started a Facebook Group called Growing Younger for women to discuss everything good and bad about being over 40. Be sure to listen to Lauren talk about all things anti-aging on the new podcast "Beauty is a Bitch!"
Image Layouts: Fountain Of 30
Please pin!