This is a sponsored post. After years of having to contend with a "hateful" kitchen, my husband and I are finally ready to start remodeling! Since I love to cook and entertain and also appreciate technology, I'm seeking out premium brand appliances because design, engineering and reliability are of the upmost importance to me. When I heard about the Bosch 800 Series dishwasher with CrystalDry, I had to check it out. Fortunately it is carried at Best Buy which is where I am finding most of the appliances I desire.
Bosch 800 Series Dishwasher
Once you hear all the features of this amazing dishwasher you will not only understand why I would want it, you will most likely want one for your own kitchen. The new Bosch 800 Series dishwasher delivers a sparkling clean and dry with advanced PrecisionWash technology and patented CrystalDry™ technology. This technology is only available in Bosch 800 Series.
With PrecisionWash, intelligent sensors continually scan and check the progress of dishes throughout the cycle and powerful spray arms target every item of every load for the ultimate clean. The patented CrystalDry technology transforms moisture into heat up to 176F for the ultimate dry, even for plastics (because how many of your children's water bottles have melted in the dishwasher?). This amazing technology delivers 60% better drying results.*
The large interior provides the loading flexibility to easily accommodate 16 place settings. And Bosch's largest 3rd rack (the MyWay rack) provides additional loading space for cereal bowls and large utensils. The Rackmatic® adjustable upper rack easily adjusts to 9 different positions, to allow taller items like stemware to fit in the middle rack while leaving room for bulky items below. The flip tines make loading wide bowls easy and ball bearing wheels provide a smooth glide. So now you don't have to run the dishwasher as much which is energy efficient. And let's face it, who loves unloading the dishwasher daily?
The Bosch 800 Series dishwasher with CrystalDry is one of the quietest dishwasher brands available right now. Extremely quiet operation (42 dBA) incorporates 18 unique sound-reducing technologies such as multiple insulation layers, grindless food filtration and a sound absorbing base. Every Bosch dishwasher is ENERGY STAR qualified and meets or exceeds federal guidelines, for year-round energy savings. And of utmost importance to me is my family's health, so I imagine I will be regularly utilizing the Sanitize Option which reduces 99.9% of bacteria.
Product Specs
24" width
There's room for up to 16 place settings. Plus, choose from 6 wash cycles including five-level wash, 5 options like Extra Dry and a concealed heating element.
Flexible 3rd rack
Accommodate the odd one out. Adding the 3rd rack with its adjustable tines can create the right fit for deep, tall or uniquely-shaped items.
EasyGlide™ rack
Load and unload smoothly. It's easy to adjust and move the racks even while they're full of dishes.
RackMatic®
Fit it all, every time. With 3 different height levels and up to 9 possible rack positions you can customize each load for your needs.
24/7 Aquastop®
Protect your floors. This 4-part leak prevention system uses sensors to detect and stop leaks, and can even turn on by itself.
42-dBA noise level rating
Wash dishes in peace. Bosch dishwashers are so quiet, you have to check the exterior Infolight® to know they're on.
Touch Control
Program a cycle quickly. The integrated controls make it easy with simple touch technology.
*Based on aggregate average drying performance of Bosch Dishwashers with CrystalDry on combined household load including plastics, glass, steel and porcelain as compared to Bosch Dishwashers with PureDry. Drying performance may vary by dish type.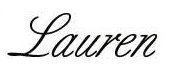 Are you following Fountain Of 30 on Facebook, Twitter, Instagram and Pinterest? We've got lots going on, so join in on the fun! Subscribe to our newsletter here. You don't want to miss a post and promise not to bug you to death. Oh and we also started a Facebook Group called Growing Younger! for women to discuss everything good and bad about being over 40. And check out Lauren's #GrowingYounger Car Confessions on our IGTV.
Please pin!
YES! I LOOK FORWARD TO #GROWINGYOUNGER
PLEASE SUBSCRIBE ME TO YOUR MAILING LIST.