I am officially obsessed with blue and white floral print dresses. And as usual you are now coming on the hunt for the perfect one with me.
Navy Blue
I didn't always love navy. In fact, I used to dislike the color intensely. It began because my first car (my mom's hand-me-down station wagon) was navy blue. Then my second car was navy blue too. That's because my father got a great deal on it. After that I swore I would never own anything navy again. Never say never.
When my mother remodeled their kitchen with navy and yellow accents she complimented it with Spode Blue Room and Blue Italian print china. Well I was smitten. In fact, I loved it so much I registered for it 10 years later for my own wedding. I still adore it as much today as I did when I received it 14 years ago.
YES! I LOOK FORWARD TO #GROWINGYOUNGER
PLEASE SUBSCRIBE ME TO YOUR MAILING LIST.
I am about to start on remodeling my own kitchen and guess what? Navy will be a crucial color. And I just bought a navy car. Seriously. I seriously did. It is now my favorite color. So it should come as no surprise I am now coveting a blue and white floral frock. If it looks like my Spode china or Portuguese tile even better. All I know is it has to be a midi or maxi length. So let's shop!
Blue and White Floral Print Dresses

What do you think of this style? Would you wear it?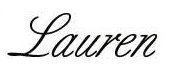 You may also like to read Chic Cocktail Dresses Under $100 For Women Over 40 and The Best Swimsuit Cover Ups For Women Over 40.

This post contains affiliate links which may give us a commission at no additional cost to you.
Are you following Fountain Of 30 on Facebook, Twitter, Instagram and Pinterest? We've got lots going on, so join in on the fun! Subscribe to our newsletter here. You don't want to miss a post and promise not to bug you to death. We also started a Facebook Group called Growing Younger for women to discuss everything good and bad about being over 40. Additionally Lauren now hosts a podcast called Beauty is a Bitch! and a weekly Instagram Live series called "Growing Younger Gabfest with Lauren."
Image Layout: Fountain Of 30
Please pin!