Black doesn't have to be a sad color. It can be extremely versatile. It's the color of the little black dress and it looks great with sequins and sparkle. Black has an important place in fashion, but it doesn't have to be serious. That's probably why we see so many celebrities wearing black.
According to Marc Bain, a fashion reporter at Quartz, "Black connotes seriousness and diligence, as in the black worn by religious orders. It can be sinister or rebellious, like the black cloaks of witches or the black leather jackets worn by biker gangs. In many cultures, it's the color of mourning. But it can simultaneously be the epitome of chic and sophistication, yet charged with eroticism."
Bain says black has a distinctive place in fashion. "Only black will ever be the new black," he adds.
YES! I LOOK FORWARD TO #GROWINGYOUNGER
PLEASE SUBSCRIBE ME TO YOUR MAILING LIST.
Celebrities caught on a long time ago, but recently, a few have stood out with their unique and stylish black ensembles. Let's take a look:
5 Celebrities Wearing Black (The New Black)

Padma Lakshmi Wearing A Black Jumpsuit

The author, actress, model, and television host of cooking competition show "Top Chef " knows the power of a good black jumpsuit. In January, Padma Lakshmi wore one that looked like a sewn together blazer and cigarette pants with sharp shoulders and a streamlined, menswear-inspired silhouette.
Other times she's worn black jumpsuits strapless, sleeveless, with cap sleeves, or with a zipper down the front. Recently, she was caught wearing a half-zip black jumpsuit under a long black velvet coat and black boots while out in NYC.
Jumpsuits are fun and functional. They're effortless and complete. And when they're in black, anything goes. Padma proves my point.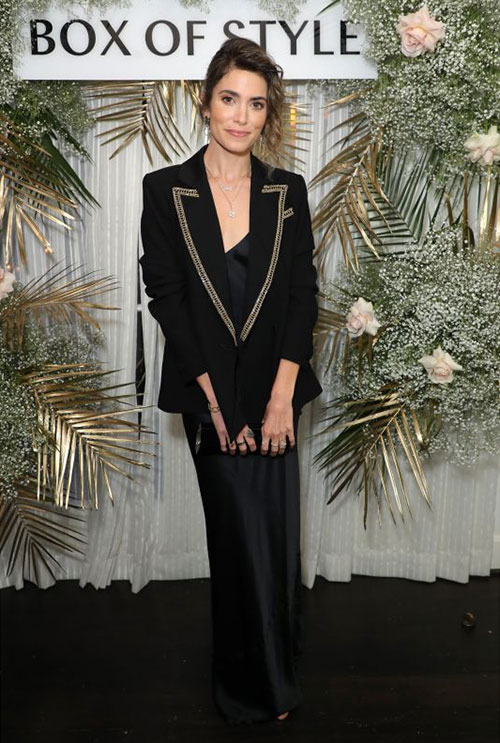 Nikki Reed Wearing A Black Blazer
An embellished black blazer can work wonders for any outfit. Just ask Nikki Reed, who wore an oversize Rachel Zoe Blazer with gold embellishments over a black slip dress at the Rachel Zoe Collection and Box of Style Spring Event with Tanqueray in L.A.
If you want to up your style game, throw a black blazer over your look. Embellished or not, they can add polish to your straight leg jeans or add more oomph to your dress on a night out. A black blazer like Nikki's is extremely versatile.
Ellie Goulding In Shiny Black Latex
Ellie Goulding attended The Global Awards at the Hammersmith Apollo in London in a glamorous black Sandra Mansour latex dress with a deep-v neckline. But it was those dramatic (and gorgeous) puff sleeves in a circle print that got all the attention.
The black latex, of course, had everyone talking, as black latex tends to do. But those puff sleeves just prove that with the right "accessories" (and I don't just mean jewelry, bag, or shoes) black can really stand out.
Brooke Shields In A Little Black Dress
No one can make a little black dress look sexier than 54-year old Brooke Shields. In her case, the number speaks for itself. But I especially the black kitten heels, with white bows on the back and the cropped snakeskin jacket. (Actually, I liked that less – but she took it off in the pictures.)
The little black dress is an essential part of the fashionista's complete wardrobe and many fashion observers believe it's a "rule of fashion." It's simple, but versatile, elegant, yet easy to wear.
Brooke Shields has worn her share of black dresses over the years. Some figure-hugging, and some in leather. All I can say is that while it is true that anyone can pull off the little black dress look, I hope I look half as good as she does at her age.
Sofia Vergara In A Black Strapless Dress
A little embellishment goes a long way. While it's true that Modern Family's Sofia Vergara can make a paper bag look good, it's nice that she added some leafy crystal embellishments to her strapless little black dress.
The 47-year old (can you believe she's almost 50? I can't…) joined America's Got Talent this month and wore this number as she kicked off the season with Heidi Klum, Simon Cowell, Howie Mandell and Terry Crews.
No word on who designed her outfit, but it's certainly a great example of black that stands out with a little sparkle for help.
Do you agree that black will always be the new black? Which is your favorite black look on these celebrities?
– Simona Shemer
Photos: Padma Lakshmi, USMagazine.com | Nikki Reed, hawtcelebs.com | Ellie Goulding, Dailymail.co.uk | Brooke Sheilds, Dailymail.co.uk | Sofia Vergara, yournextshoes.com
You may also like to read more of Simona's Celebrity Style posts like Stylish Celebrities Who Are 50 And Fabulous and Celebrities In The Front Row At NYFW Fall 2020
This post contains affiliate links which may give us a commission at no additional cost to you.
Are you following Fountain Of 30 on Facebook, Twitter, Instagram and Pinterest? We've got lots going on, so join in on the fun! Subscribe to our newsletter here. You don't want to miss a post and we promise not to bug you to death. We also started a Facebook Group called Growing Younger for women to discuss everything good and bad about being over 40. Be sure to listen to Lauren talk about all things anti-aging on the new podcast "Beauty is a Bitch!"
Image Layouts: Fountain Of 30
Please pin!