There is no denying that brows make the face. Recently I am being asked about microbladed brows…a LOT. "Lauren, what do you think of microblading?" or better yet "Should I do it?" That's really a loaded question. Yet I do have some microblading tips and advice for women over 40. Anyone who knows me knows I am completely OCD about my own brows. They were big and bushy in the 80's when the Brooke Shields look was in. Then I waxed and plucked the hell out of them in the 90's. I'm fortunate that all but a little patch on my left brow grew back! I also realize I am in the minority for my age. I'm lucky I still have pretty good brows and I know it. Many women my age now have unfortunate brows thanks to age, over-plucking, chemo or a poor diet.
Microblading Tips and Advice
Back to microblading; I am personally of the opinion that if I can tell your brows are mircorbladed then they don't look good. Sorry, but that's the truth. I am seeing a lot of 20-somtheings running around with really bad microbladed eyebrows (they look almost cartoonish). That said, I am sure there have been a lot of women who have had such professional, successful jobs done, I can't even tell. Those are the kind of microbladed brows you want!
What is microblading?
Microblading is a semi-permanent tattooing process where a tiny wand-like device with tiny needles is used to make tiny strokes that replicate actual tiny eyebrow hairs. So if your brows are looking a little sparse from years of over-plucking, and your eyes could use a lift (fuller, arched brows can actually visually lift the eye and make you look younger) and filling in your own brows is not your talent, and you want to wake up every morning with fabulous brows, this may just be your saving grace.
What's the difference between tattooing & microblading?

An eyebrow tattoo is a permanent procedure (which I do not recommend at all) that uses a machine to penetrate pigment deep into the layers of the skin. A permanent eyebrow tattoo is a thick, unnatural-looking solid line (think of a clown). Microblading involves using a hand tool with nine or more tiny needles to create shallower cuts on the skin that allows pigment to seep and set in. With a microblading needle there is much more control over the strokes so they can be drawn one by one, more crisply and appear more hairlike. Microblading lasts one to three years depending on the way your skin retains the pigment. I strongly urge you to go with a less permanent solution especially since your face changes as you age. So the brows you have applied today may not look right in another 10 years.
Does it hurt?
If you have a low threshold for pain yes, it might hurt. Some have told me it doesn't hurt at all because numbing cream was applied and others have said it was very uncomfortable. But if you've given birth this will be a walk in the park. Expect some pain and you are going to be there a long time (the procedure can take hours). So buckle up and pull up your big girl pants. You can't hop off the table after having only one brow done anyway.
How much does it cost?
Considering it should last 1-3 years expect to splurge. Depending on where you live, microblading can cost as little as $500 and go up to about $4,500 (that's insane). On average you should expect to pay around $900. Here's one way to look at it. Think of all the money you will save on brow tools and makeup! Also, please don't pick someone to microblade your brows based on price. Don't go for the cheapest option just because it's cheap. These brows are on your face! Don't make a mistake by skimping or you are going to live to regret it. If you can afford to go to the best person in your area (and please do your research and check their work), then do it!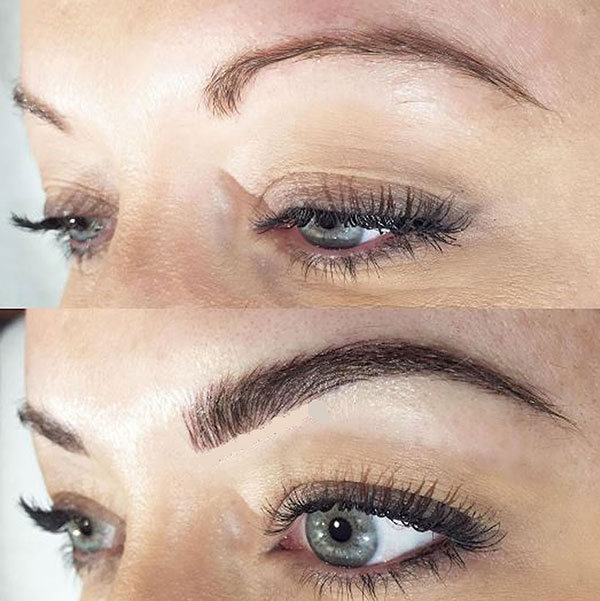 If you're over 40 should you do it?
As I said, brows make the face and if you are feeling your face is looking tired, your brows have thinned or have just disappeared with your youth, this may just be the answer you were looking for. Faded, sparse brows are aging. Nothing frames a face more beautifully or gives an instantaneous lift quite like perfectly shaped brows. We all want them and we don't all have them…anymore.
All hair including eyebrow hair, has a three-phase growth cycle. There's the anagen phase (active growing), the catagen phase (growth stops), and the telogen phase (the hair is at rest). If you started plucking your brows in your teens you probably have hardly any brows now because you disrupted the growth cycle. Repeated plucking can stunt the growth cycle, often permanently, especially if you did it for years. Add to that, hair growth slows as we age, so even if you rarely took tweezers to your brows they still may thin, fade or get patchy. Thinning brows can also be attributed to changing hormones, hormonal issues, medical treatments (like chemo) and nutrient deficiencies, etc.
Over 40 skin is drier.
Be aware. If you are over 40 your skin is drier and that means it will hold on to the pigment longer. So what is considered semi-permanent for a 20 year-old may last a lot longer on you. Also wrinkles in the brow area can cause problems during micorblading so make sure you go to an expert who has worked with older clients and can handle this. Additionally check your skin can handle microblading (I'm allergic to tattoo ink so I could never personally do this).
That all said, be sure you ask for a delicate, more natural looking brow. Do NOT request a super thick brow because you can no longer get away with a fashion-forward thick brow the way a 20-something can. You will regret it. Think natural and less is more. You can always go back for more if need be.
Another Option
A friend of mine who is my age told me she now does powder brows instead. What are those? A soft, misty, powder filled brow similar to the look of makeup meaning the tails of the brow are darker, and fade into a light start to the brow, giving it a very subtle, ombre look. Over time the pigment fades leaving the skin and your natural brows in place. Powder brows are meant to create a powder look much like topical powder make up. They do not create a hair stroke look but are best for women that want a more solid looking brow or have brows but want a base color. "It's a little more natural looking than the hairstroke method." Powder brows last anywhere from 2-4 years. And, yes, you can do a combo of microblading and powder brows, as in this photo above. Just ask.

You're Ready to Take the Plunge? Then follow these simple steps:
Do your due diligence! If you chose the wrong person for microblading you will have to live with the results. So do your research! Make sure the artist is CPCP (Certified Permanent Cosmetics Professional) certified. Look at the practitioner's online portfolio (before and after photos) and Instagram account. Read their reviews. Then interview your practitioner and make sure you like his/her approach. If you don't gel with them find someone else. You can't afford a mistake since your eyebrows are a focal point of your face.
Insist on a consultation. Do this on its own day and NOT the day of your appointment! If you try to do a consultation before your appointment time, you might feel rushed or worse yet, trapped. You need to have all your questions answered (like how long they have been doing microblading) and time to process the information. It also gives you a chance to change your mind.
Try before you buy. Insist the artist draws on your brows first so you will see what it will look like before you commit. You'd do the same with a tattoo right?
Accept reality. If the practitioner you select after your thorough research thinks you are not a good candidate for microblading give them a big hug and accept it. Don't go practitioner hoping until you find someone who will do it, because there is always someone willing to take your money. Find one who's opinion you trust and if they say it's not for you, take them at their word.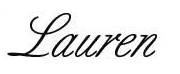 You may also like to read more anti-aging beauty posts like 15 Of The Best Products For Dry Winter Skin and Wrinkles AND Zits? Adult Acne Solutions.
Sources: NY Post, anonymous friends, Elle.com
Photos: Adobe, Istock, powder and microblading combinbation, Eyedesign New York
Are you following Fountain Of 30 on Facebook, Twitter, Instagram and Pinterest? We've got lots going on, so join in on the fun! Subscribe to our newsletter here. You don't want to miss a post and promise not to bug you to death. We also started a Facebook Group called Growing Younger for women to discuss everything good and bad about being over 40. Additionally Lauren now hosts a podcast called Beauty is a Bitch! and a weekly Instagram Live series called "Growing Younger Gabfest with Lauren.
Please pin!