As I've aged I have realized I have evolved from loving fashion to caring more about style, or more specifically, my own personal style. What's the difference between fashion and style? It's a question I am asked all the time. So let's break it down.

In a nutshell, style is timeless while fashion is of the moment (or timely). If you live and die by the fashion trends of the moment and have to have the latest trends or the hottest designer clothing, you are fashionable. I was this person. And while I still have elements of her still left in me (there are some trends that really interest me), I have found I now care more about style. Someone who is stylish may or may not follow fashion trends, but they always stay true to their own aesthetic or personal style.
YES! I LOOK FORWARD TO #GROWINGYOUNGER
PLEASE SUBSCRIBE ME TO YOUR MAILING LIST.
What Is Fashion?
Fashion is "a popular trend, especially in the style of dress and ornament or manners of behavior" (according to the Oxford Dictionary). In essence it's the dominate style of the time. It's the popular way of dressing during a specific time frame or era.
If you follow the fashion industry, they deal with relevant styles of the "right now". Designers host fashion shows to highlight clothing that expresses their vision for the future of fashion (or at least for the upcoming season). And if you go to enough fashion shows you will begin to notice how trends emerge for that season. Then editors, fashion bloggers and influencers respond to that vision with their own spin. Retailers, in turn, use all that data and information to sell clothes to the public. A major part of fashion is the way the latest trends are propagated and disseminated, whether via social media or in fashion magazines and blogs.
What Is Style?
In the fashion world, "style" basically means "personal style." It's the way an individual expresses themselves as it pertains to their clothing, accessories, hairstyle and the way they put an outfit together. It's how they present themselves to the world in the context of fashion. As Coco Chanel (an icon of personal style) famously said "fashion changes, but style endures."
And while our style is personal, it's definitely influenced by the fashion of our time yet we ultimately decide what looks good on us, what to buy and what to wear. Style is the way you express yourself in the context of fashion. For instance, you may choose to wear trendy high-waist wide leg jeans because you know they will flatter your figure or you may opt to continue to wear skinny jeans (even if millennials say they are out), because you know they look good on you and you love them. When it comes to style you could participate in popular trends (which are more easily accessible) but pair them with something you won't find in any store or has been a staple in your closet for years or even decades.
Most of us blend both and it's a journey of self-discovery and creativity that makes merging fashion with style fun. And it's something we hopefully become more comfortable with as we age and are true to ourselves.
The Difference Between Fashion and Personal Style
So let's review, yes there is often an overlap between fashion and style, but keep in mind fashion relates more to the masses or collective, while style relates to the individual. Fashion has to do with global trends and the business of fashion. Personal style is a means of self-expression.
Additionally fashion is timely and trendy, where style is timeless. Someone who is stylish may or may not follow fashion trends, but they always stay true to their own aesthetic. They know what works on and for them and they stick to that formula. When someone is fashionable that means they closely follow the latest fashion trends and wear designer clothing.
Don't Think You Have a Personal Style?
Many women in midlife confess to me they don't have a personal style. How do they figure that out? I always ask, "What is in your closet that you are drawn to?" and "What are the top 5 outfits you always find yourself wearing, because you feel your best in them?" Many women are afraid to fall back on what they really love and are drawn to because they think it's dated or out of fashion. True, that denim jacket you loved in the 80's is probably not going to translate well today. But you can certainly find one that is similar with more modern details. Then look for a denim jacket in the stores today that intrigues you. I often look to high fashion retail sites like Net-A-Porter to help guide and inspire me.
When it comes to colors and patterns, for example, you may have always loved a vivid turquoise blue. Why not incorporate it into your current wardrobe and make it your signature color? Or if you always loved dark florals, look for ways to wear them in your wardrobe today.
If your wardrobe is mostly black with shots of bright color…then that's your style. Wear it with confidence and attitude and you will exude great personal style. Personal style is about developing a sense of self, rather than simply absorbing trends.
My Personal Style
I'd define my personal style as classic meets a little bit of edge. I always like one detail that makes me happy like a sharp shoulder, a ruffle or black leather. Come to think of it much of my wardrobe is black so I try to embrace a pop of color like my favorites, blue or burgundy. I can be found in jeans most of the time as I prefer to be casually chic and have at least 6 leather jackets I adore and wear consistently. I love the look of jeans with a menswear jacket, a designer belt and a fabulous leather bootie. That's my go-to look or my "uniform" as I call it.
Because of my love for fashion I keep up with runway trends, yet only incorporate one trendy element into an outfit. For example I am very intrigued by strong shouldered pant suits which is a hot trend for Fall '22 so I am keeping my eyes open for one that speaks to me. I would also like a menswear midi coat and since I know it is something I will potentially wear for years, I am willing to invest in a quality coat. Something ultra trendy that I long for I will buy at Zara or the like. But I try not to keep too many fast-fashion items in my closet and would rather invest in quality over quantity. I also have items I still wear and love I have had for over 30 years.
Fashion That Fits My Style
Lastly, after decades of wearing clothes that were fashionable but didn't look good on me I can now look at a trend or article of clothing and know immediately if I can wear it or not. It took me years of mistakes to finally develop a keen eye and fully understand and accept my body and what works and doesn't work on me.
What is your personal style?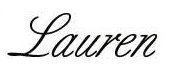 Photos: Fountain Of 30 and Vogue.com
You may also like to read What To Wear Now: Our Favorite Late Summer Fashion Staples and 9 of The Best Fall 2022 Fashion Trends for Women Over 50.
This post contains affiliate links which may give us a commission at no additional cost to you.
Are you following Fountain Of 30 on Facebook, Twitter, Instagram and Pinterest? We've got lots going on, so join in on the fun! Subscribe to our newsletter here. You don't want to miss a post and promise not to bug you to death. We also started a Facebook Group called Growing Younger for women to discuss everything good and bad about being over 40. Additionally Lauren now hosts a podcast called Beauty is a Bitch! and a weekly Instagram Live series called "Growing Younger Gabfest with Lauren."
Please pin!