This post is sponsored by Bonafide® and SHE Media.
You know I believe in fighting the fight when it comes to aging, but there are some aspects of it that I would not change, like the wisdom I have earned. There are many subjects that women of a certain age don't really discuss, which is unfortunate. One of them is a decreased sex drive when we enter menopause. Since female arousal is often a taboo subject, of course I am going to tackle it. I just discovered Ristela™ by Bonafide® which provides powerful, hormone-free support for increased arousal and orgasm, with a proprietary plant-based blend that enhances your sexual satisfaction. You need to know about it too!
Increased Arousal and Orgasm – Hormone-Free
Yes, I went there. Why shouldn't women continue to enjoy sex as long as they possibly can? If you have noticed you're no longer sexually aroused the way you used to be in your 20's and 30's, there is something you can do about it: try Ristela. Moreover, if you are like me and would prefer to take something that is plant-based, hormone-free and steroid-free, then Ristela might be just the thing to help you bring sexy back. On your terms.
For years and years women have been inundated with ads about men's sexual health and dysfunction, yet our sexual health has had far less exposure. Despite the fact that research suggests sexual dysfunction is common in both men and women, it is still a topic that many women are not comfortable discussing. Ristela is here to change that conversation. As am I.
YES! I LOOK FORWARD TO #GROWINGYOUNGER
PLEASE SUBSCRIBE ME TO YOUR MAILING LIST.
Why Do Women Become Less Sexually Aroused As They Age?
Blame it on the loss of estrogen and testosterone following menopause. This deficiency can lead to changes in a woman's body including her sexual drive. Menopausal and postmenopausal women may notice that they're not as easily aroused, and they may be less sensitive to touching and stroking. Obviously, all of this can lead to less interest in sex.
Enter Ristela, which provides powerful, hormone-free support for increased arousal and orgasm, with a proprietary plant-based blend that enhances your satisfaction. It boosts sexual enjoyment with daily use and the ingredients have been designed to promote healthy blood flow.
Why shouldn't sexual arousal be the way YOU want it to be? Ristela has been shown to increase arousal and orgasm and increases desire over time with daily use. Most importantly, the ingredients are clinically shown to be safe and have been used by women in Europe for over 20 years.
Let's Look At The Numbers: Ristela Supports Increased Arousal and Orgasm
In clinical trials, women saw significant improvements with Ristela at month 1, with further improvements by month 2. In a double-blind, placebo-controlled clinical trial, Ristela demonstrated significant improvements in arousal, orgasm, desire and overall satisfaction. Bonafide rigorously researched and tested the efficacy and safety of their products. Here is what they found:
Women saw a 62% increase in arousal at month one and 75% by month two1
Women saw a 62% increase in orgasm at month one and 74% by month two1
Women saw a 61% increase in sexual satisfaction at month one and 75% by month two1
How To Find Ristela
Ristela is a coated, oral tablet. For best results take two tablets every day and use consistently for one month. Ristela can be purchased exclusively online at HelloBonafide.com/Ristela. Ristela is available for a monthly subscription at $45/month plus free shipping.
Get 15% off your first month when you subscribe to Ristela. Head to HelloBonafide.com/Lauren and use code LAUREN to save.*
References:
1Stanislavov R, Rohdewald P. PACR (Pine Bark Extract, L Arginine, L Citrulline, Rose Hip Extract) Improves Emotional, Physical Health And Sexual Function In Peri-Menopausal Women. J Women's Health Care. 2014;3:6.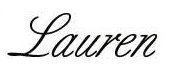 Are you following Fountain Of 30 on Facebook, Twitter, Instagram and Pinterest? We've got lots going on, so join in on the fun! Subscribe to our newsletter here. You don't want to miss a post and promise not to bug you to death. Oh and we also started a Facebook Group called Aging Backwards! for women to discuss everything good and bad about being over 40. And check out Lauren's #agingbackwards Car Confessions on our IGTV.
Please pin!
*Offer is subject to change.