I know I am probably the only person in New York who has not yet seen
Wicked
, but I still loved this challenge. The designers meet at the
Gershwin Theatre
where the musical "Wicked"  has delighted audiences for over ten years. A VERY pregnant Alyssa descends to the stage in a bubble wearing a too short dress that most men (but not these men) would be sure to sneak a peak. She then introduces Christine Dwyer and Jenni Barber (in character), who currently star as Elphaba and Glinda. Since the musical "Wicked" is based on the dichotomy between good and evil the designers are challenged to create a couture-inspired gown that is either "wicked" or "good." The twist is the designers will compete in pairs (against each other) and a high score and a low score will be awarded to each pair. Follow?
The pairs go like this:
Benjamin (Wicked) vs. Helen (Good)
Justin (Wicked) vs. Fabio (Good)
Dmitry (Wicked) vs. Gunnar (Good)
Chris (Wicked) vs. Michelle (Good)
Kate (Wicked) vs. Sonja (Good)
Samantha (Wicked) vs. Jay (Good)
Each designer gets to spend $250 at Mood and have two days to work.
Most of the designers seem to be good "friends" with the person they are pitted against, but Gunnar makes it clear he wants to kick Dmitry's ass! "I could go home next week as long as I beat him on this one." Let's just see about that. Kate is excited she has to go outside her comfort zone and create a wicked look, but can she? She makes everything look like a wedding dress! Fabio is wedded to his pants-gown (yikes) idea and Helen creates a loofa (so comments Zanna). All designers are warned that couture does not mean crafty or costume-y. Chris March may be in trouble. He uses grey t-shirt material which in no way means couture. Ever.
Let's go to the runway. Our guest judge is – wait for it – an actress! And she's a teenager to boot. "Modern Family" actress Ariel Winter joins Isaac and Betsey Johnson who is filling in for Georgina Chapman.
TOP THREE
Dmitry
– His "wicked" look was a huge hit with the judges (sorry Gunnar), but surprisingly Isaac wishes it showed more skin. Really? It had a slit up to you know where! The back of the dress actually looked more wicked than the front, but he is obviously safe.
Samantha
– I was actually surprised her "wicked" gown made the top three since it looked a little unfinished to me, but whatever. It wasn't as bad as Michelle's (which I hated). The judges love it and she is safe.
Sonja
– The major upset of the evening was this "good" couture look from Sonja, because back in the workroom I didn't think she could pull it off. Yet, she delivered a beautiful white lace and petal skirt confection. The judges go nuts and she wins! Look for gown on display at the Gershwin Theatre.
BOTTOM THREE
Fabio
– No surprise here. Fabio's "good" pants/gown is completely lost on the judges. He tries to say it was his interpretation of a gown, but the judges are not having it. He is safe, but barely.
Helen
– The loofa-ed organza comes off as costume-y and Issac makes the comment that just because you spent a ton of hours on the ruffles it doesn't make them good. Yikes. Betsey comment that the organza jetting out form the skirt could serve as a side table on which to rest a drink. Helen is getting slammed left and right, but she is safe.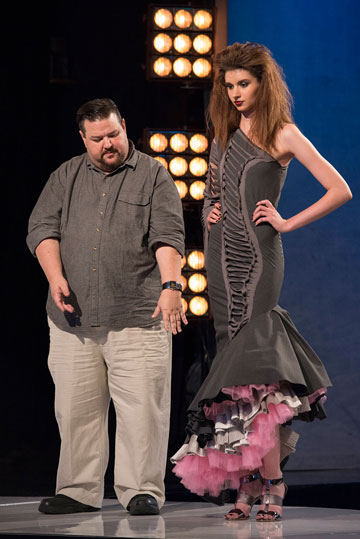 Chris
– My poor Chris March. I just knew when I saw this dress on the runway he was in BIG trouble. Isaac calls him out on the t-shirt fabric which he finds unflattering and Betsey, forgetting the challenge likes the costumery of the gown. Alyssa says she thought this would be HIS challenge since he actually designs costumes. She doesn't like it and he is out. And I am sad.
Memorable Quotes
"It sucks that I have to go against Chris!" – Michelle
"He underestimates me completely as a designer and I would love to kick his ass." – Gunnar
"Let's see if I can do a wickedly pretty dress." – Kate
"I wish I hated her." – Chris
"Dmity's look is like a Nancy Kerrigan gone wild look." – Gunnar
"It's looking like a shower loofah" – Zanna Roberts Rassi
"Right now it's dullsville…" – Zanna Roberts Rassi
"It's called the workroom and not the talk room." – Dmitry
"I don't know how couture it is, except for the fact that you can see her cooter – it's cooter-ture" – Michelle
"I personally like it because I thought wherever I went, I would have a side-table to put my drink on." – Betsey Johnson
"Maybe it opens up and it's a drink cabinet…" – Betsey Johnson
"To me it feels like one of those Tshirts you see in like California." – Isaac Mizrahi
"It's wonderfully wickedly wrong."  – Betsey Johnson
"It just looks messy." – Isaac Mizrahi
"An epic failure." – Isaac Mizrahi
"It does look like a duvet cover with some ruffle kiddie pillows that are being thrown on the bed." – Ariel Winter
"It's a train wreck. It kind of looked like a hot-topic T-shirt dress." – Ariel Winter
"It's schizophrenic." – Betsey Johnson
"Oh … there's people touching me!" – Chris (getting hugged by the designers)
Be sure to check out our other favorite site dedicated to all things Project Runway…Blogging Project Runway!
– Lauren Dimet Waters
Photos: Lifetime