Is New York Fashion Week dead? That's debatable, but the celebrities are still showing up! Do they want to see the fashion? Are they getting paid to be there? Nobody knows. And you know what, nobody cares either. A fair share of A-listers (and a whole lot of B, C, and D-listers) were in the front row of major shows like Prabal Gurung, Michael Kors, and Calvin Klein at New York Fashion Week. Let's check out the New York Fashion Week Fall '17 front row celebrity fashion.
A fair share of A-listers (and a whole lot of B, C, and D-listers) made appearances in the front row of major shows like Calvin Klein, Prabal Gurung, Michael Kors, and more. Many of them had great style moments. And many of them looked like Katy Perry at Marc Jacobs. The clothes were alright but I still can't accept the blonde hair.
Every year there's always one celebrity that suddenly pops up at countless shows throughout the week, and has some major fashion moments to boot. This season, that celeb was Diane Kruger, a fashion goddess, who graced us with at least 10 looks at shows like Jason Wu, Tory Burch, Prabal Gurung, and more.
YES! I LOOK FORWARD TO #GROWINGYOUNGER
PLEASE SUBSCRIBE ME TO YOUR MAILING LIST.
The Daily Mail called this look satin pajamas.
Diane Kruger at Jason Wu's 10th Anniversary Midnight supper
OK, so technically it's not a front row, but I always love a good floral on Diane Kruger.
She looks great in blue.
The Inglorious Basterds-star wore a lilac evening dress look to the Prabal Gurung front row, which was quite celeb heavy.
I miss Gossip Girl, but got my fill of the beautiful Leighton Meester at shows like Kate Spade and Prabal Gurung.
Mandy Moore was a breath of fresh air…in black! I'm really a fan of her mature fashion lately and believe me, she's had to wear a lot of it thanks to promotions for her smash hit show"This is Us."The outfit below was by far my favorite outfit of the entire week
Fashionista Sarah Jessica Parker made an impromptu appearance at not one but two shows! (Actually 3, she was at Calvin Klein, too.)
Blake Lively brought her sister Robyn for the one and only Michael Kors. And she also wore the most amazing dress.
Perhaps Calvin Klein's front row was the most talked about at Fashion Week. After all, it was Raf Simons' premiere. It was totally packed. Julianne Moore, Gwyneth Paltrow, Sarah Jessica Parker, Naomie Harris, Brooke Shields, Lauren Hutton, Millie Bobby Brown, Sofia Coppola, Kate Bosworth, Greta Gerwig, Amber Valletta, A$AP Rocky, and Ashton Sanders were all there.
Love the slew of stars but not a big fan of the pinks and browns and camel colors. Or Kate Bosworth's Calvin Klein logo t-shirt for that matter, which she said she made herself using a special logo made by Raf Simons.
Naomie Harris is having a big year! Is she showing up at New York Fashion Week to pick out something for her next red carpet?
Here are some other famous fashionistas who made an appearance at New York Fashion Week
Mandy Moore wore my favorite look of the week, Blake Lively had a pretty, colorful Michael Kors dress that I loved, but the girls that attended the Kate Spade presentation – Leighton Meester, Camilla Belle and Victoria Justice were the best overall ensemble. We saw a lot of black this season, but also some really funky colors.
This girl had time for the Grammys and Marc Jacobs this week.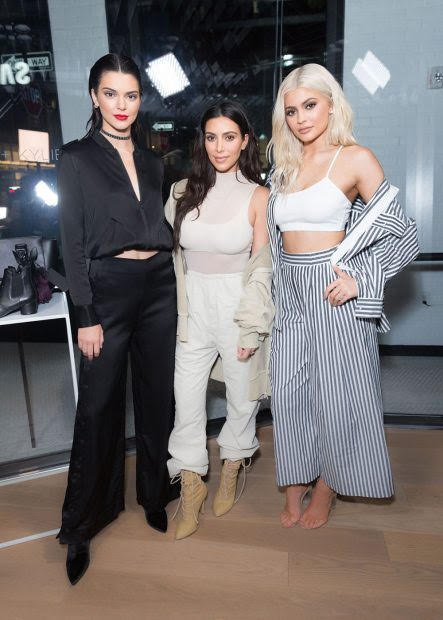 –Simona Shemer
Photos: People.com, Marie Clair.co.uk