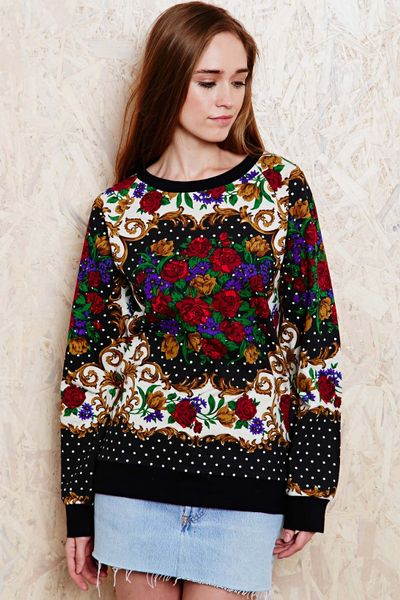 Is that an ugly Christmas sweater or a Minkpink extravaganza? Even though some might say it's really hard to tell the difference, the colorful
Minkpink
sweatshirt (fittingly called the
Excessive Sweatshirt
) is all the rage among celebs like
Jessica Alba, Cara Delevingne
, and yes even
Amanda Bynes
. What is it about this vibrant and colorful $105 top that has celebs snatching it up? With polka dots, floral, and a bit of gold, it looks like something out of a recent
Dolce & Gabbana
collection. But alas, it's definitely the kind of trippy garment that transitions from dressy to casual but still makes a statement.
In my personal favorite way to wear the look, Jessica Alba paired it with a collared white shirt, leather miniskirt, knee-high boots, black tights, bold necklace, light pink sunglasses and a teal bag that kinda sorta brought out the colors in the shirt, but not really. Some fashion blogs argued that she looked way overdone, while others (ahem, Perez Hilton) say no one should be wearing that sweatshirt in the first place. What do you think?
How's this for matchy-matchy? Cara Delevingne, who seemed to live in her floral and polka-dot Minkpink trousers last year, recently decided to wear them with her matching Minkpink sweatshirt. While I'm a fan of her pairing the pants with the black sneakers and a leather jacket, I'm not a fan of a look that matches from head-to-toe, especially one that is as loud as a Minkpink ensemble. Some advice: unless you're Cara Delevingne, don't try this at home.
Others stars who have worn the sweatshirt include Amanda Bynes and Zendaya Coleman.  Not exactly your average A-lister, but hey, if this sweater was seen on more than one celeb then you know it must have had something that commands attention.
YES! I LOOK FORWARD TO #GROWINGYOUNGER
PLEASE SUBSCRIBE ME TO YOUR MAILING LIST.
There is plenty of fashion out there, so what makes this specific sweatshirt so special? Maybe it's the oversize feel, the beautiful colors, or the combination of trends – floral and polka dot. Whatever the case, the people have spoken and the sweatshirt is completely sold out everywhere! The only one that could even compare is the black and blue
Minkpink Going for Baroque sweater
now on sale at Shopbop for just $50. Sounds like a good replacement to me!
Or consider some of these; Photos: Fashionbombdaily.com,
Azalea
, Out + About, Hollywood Life, Coolspotters — Simona Kogan