This is a sponsored post. My children had a full week off for President's Day and since winter has been so mild in New York we thought we would buck the trend of going somewhere warm and beachy and enjoy a winter wonderland escape. When we were first invited to go to Woodloch Pines Family Resort in the Poconos I was initially hesitant. When I was a little girl growing up in the Buffalo, NY area we only got one TV station from NYC and I vividly remember the Crazy Eddie and Mt. Airy Lodge resort ads, and boy were they cheesy. Therefore, I wrongly assumed all resorts in the Poconos had heart shaped beds.
We left our house with our car packed high with winter boots and ski pants and headed for the hills (in Pennsylvania). Our drive was 3 hours which seemed to fly by as we got further and further from the city and deeper into the beautiful scenery of the mountains and streams of PA.
Woodloch Pines Resort
Once we arrived at Woodloch we were met by the nicest check-in staff I have ever encountered. We were told our suite was ready which was a relief considering check-in time was 5pm and we were there at 3:30. Our spacious suite was located in the same building as the Indoor Pool and Splash Zone complex (the kids were excited). It was comprised of a bedroom with two queen beds, a full bath and and attached living room with another full bath (for the kids), a kitchenette and a huge closet that could be considered a bedroom in NYC.
YES! I LOOK FORWARD TO #GROWINGYOUNGER
PLEASE SUBSCRIBE ME TO YOUR MAILING LIST.
We unpacked and checked out the grounds with a map in hand. We were instantly turned around but thankfully shuttles come by every 10 minutes or so and will take you where you want to go. We headed straight for the bumper cars. Then back to the room to unpack and rest up before dinner at 6ish. I found a book on the desk in my room called "Woodloch; A Tradition Of Excellence & Hospitality. An American Dream" and read it cover to cover by the end of the weekend.
The History Of Woodloch
When a friend of mine learned I was going to Woodloch she said, "I have friends who go back year after year." I didn't get it until the end of my trip. So let's start at the beginning.
The fairytale-like origin of Woodloch dates all the way back to 1939. Two high school sweethearts, Harry and Mary, made a life-long pact on a little-known lake, Lake Teedyuskung, in the dense forest in the Northern Pocono Mountains. After the couple wed, the stresses of the "1950's New York rat race" became a burden on their young family. Mary often thought about the gorgeous lake from her younger days, but her thoughts were quickly consumed by the task of raising her three children. One day, Harry saw a for sale listing in the New York Times for a small resort on a private lake in Northeastern Pennsylvania. As fate would have it, the lake turned out to be Teedyuskung!
Mary and the kids moved up to this remote area of Pennsylvania to run the business. During the week, Harry kept his Long Island business going and stayed with his family at what is now Woodloch Pines on the weekends. It was a family affair and everyone, even the children, worked.
Set on12 acres along the lake with two cottages, a main lodge and no running water, Woodloch Pines first opened its doors in 1958 to a full-house of 40 guests. This was Harry and Mary's home; all were welcome. And because the guest list was originally comprised of their old friends from Long Island, everyone was treated like they were family, including the staff.
The original 12-acre Poconos resort included a main lodge, annex and two cottages, all of which accommodated 40 guests during the summer months. Due to demand they extended their season and their property buying up whatever surrounding land they could. Woodloch's popularity grew and grew, and by 1961, the Kiesendahl's had doubled the size of the lakefront resort.
Harry and Mary's eldest son, John, took the reins in 1983. John had the vision to expand and thus embarked upon the construction of Woodloch Springs, a residential golf course community, just two-and-a-half miles down the road from the Pines. In 2006, sister property The Lodge at Woodloch: A Destination Spa opened and has since ranked among the top five spas in the world. (I got to check that out as well).
Our Stay At Woodloch

Let's start with the food because it's pretty awesome. My younger son who fancies himself a food critic was very impressed. Keep in mind I had been doing Whole30 but knew I was going to break it for this trip because I was told the bakery is amazing and I wanted some wine. Our first meal was dinner Friday night and we were shown to a table that would be ours for the duration of our stay. There was a gorgeous salad bowl waiting for us. It had apples, cranberries and a wonderful apple dressing. Then we could choose between two appetizers and six dinner options. There were children's staples like chicken fingers, burgers and hot dogs. My husband opted for the prime rib and I picked fish. I think I ordered some shrimp dumplings for an appetizer but my son ate mine (and well as his own) and I was happy with the salad.
The desserts were insane. The kids ordered huge bowls of ice cream with whipped cream and sprinkles (the cookie dough was the best I've ever tasted) and my husband and I shared a chocolate peanut butter cake. Soft drinks for the kids are included and adult beverages are extra, but reasonable. I got a glass of Kendal Jackson Chardonnay for $10.
I have to note one thing: the water served from the pitcher is delicious. My husband took a sip at dinner and said to me, "Try the water." I did and it was the best water I have ever tasted! Better than a bottle of Poland Springs. Apparently we get awful water where we live. We didn't know water could taste this good so the servers from then on left us our own pitcher on the table for every meal. We also drank it out of the tap in our room. Who knew water could be that good?
Fabulous Food
Anyway, back to the food. When you are seated for breakfast at Woodloch you are immediately greeted with their infamous crumb cake. It's addictively good.  The kids and my husband had Swedish rolled pancakes with lingonberry sauce that were to die for and I ordered an egg white frittata that was both pretty and delicious. Our waitress apologized it was so small and told me I could order another but frankly, after the crumb cake, I could not finish it. All I can remember from our first lunch (I think I had a steak salad) is that our waitress managed to score us a skillet chocolate chip cookie with a scoop of ice cream which we had missed from lunch the day we arrived. We loved her. The rest of the meals were a whirlwind. All I know is they were fantastic and plentiful.
Wait! Before I go on to the activities I would be remiss if I did not mention the lemon meringue cheesecake we had for dessert for our last dinner. My husband and I thought it sounded weird but we saw it going by to other tables. He's a cheesecake guy so we decided to share one. We could not stop eating it. It was the best dessert I have tasted in a long time. It somehow works. Like a cronut. Anyway, you can order Woodloch's baked goods to take home with you – deadly, but true.
Inclusive Activities at Woodloch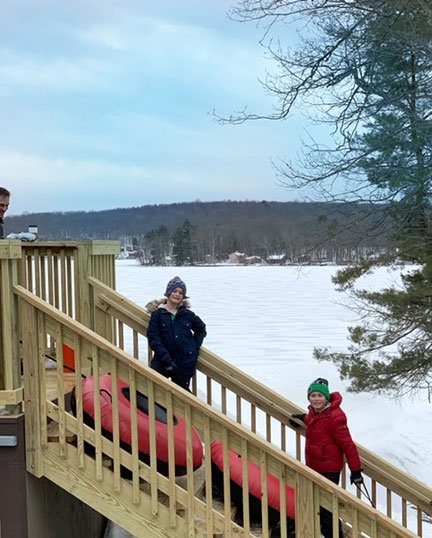 The first night after dinner we attended a magic show. It was really good but the best part was humiliating my husband and getting him called up on stage. My sons were also brought on stage for another trick. Everyone was happy.
Every morning there is a printed schedule of activities placed on your breakfast table. So while you are drinking your coffee (hot chocolate for the kids) and eating your crumb cake, you can plot out your day. Since we only had a full day on Saturday, we decided we were going to do it all! I had a massage scheduled over at the nearby Lodge at Woodloch at 11am so my husband and kids decided to partake in the Winter Olympics at 10:30am. Teamed up with some other families fpr a total of 12, they competed in six activities in two hours. They included curling (my older son performed the best on his team!), snow tubing, group bungee run, football bowling pin toss, dice roll and tire run.
Meanwhile Woodloch provided me with a ride at 10:30 over to the nearby spa at The Lodge at Woodloch which is voted the 3rd best spa in the world. It consists of its own hotel, restaurant and spa. The lodge is for adults only and has a completely different vibe. I was blown away, and I am not easily impressed. I love spas. I have been to countless and consider myself a bit of an expert, but this one was AMAZING! I was given a tour of the massive facilities and they were quiet, modern, inviting and immaculate.
The spa has 27 massage rooms and a menu of at least 50 different treatments (facials, massage, specialty body work, body treatments and even FLOAT therapy). There are private men's and women's spas and some areas that are coed. There are cozy fireplaces, saunas, steam rooms, Jacuzzi's (indoors and an outdoor infinity option) heated Hydromassage WaterWalls, an indoor pool, and well I would go on, but I want to go back and explore more.
The Lodge at Woodloch Spa

Anyway, I experienced a wonderful 50 minute Swedish massage. If I didn't have to get back to meet my family for lunch I would have moved in and never left. I was sad to leave.
Over lunch the kids were so excited to tell me about the Olympics and that they had placed sixth out of 16 teams. I was impressed but my younger son was upset they didn't medal. After lunch we all went to the Go-Carts where my kids rode until we finally made them get off. The lake was melting a bit so skating was out but they tried the new Ez-Glide synthetic skate rink which is open year round. Then we checked out the Extreme Snow Tube run which the kids LOVED. Had it not been closing in 20 minutes they would have stayed all day. They got six runs in which I thought was plenty but they wanted more. So then we headed back to the main lodge where my kids enjoyed the Main Snow tube run while their parents warmed up at the outdoor fire pit overlooking the lake. The scenery was gorgeous and the kids were having a blast.
Were we tired yet? No way! There was a winter carnival at 4pm, and we caught the last bit so the kids enjoyed playing games for prize tickets, petting snow dogs, making their own hot chocolate drinks with a fixings bar and roasting marshmallows. What I found truly amazing is that even with hundreds of people around we felt like we were alone if we wanted to be and if we interacted, everybody there was so friendly. Since my son was the curling champ earlier that day when his former team mates saw him they'd say "Hi Liam!" My shy guy loved being a rock star.
By this time my husband and I were cold and exhausted (the kids could have kept going) so we convinced them to go back to the room to rest up before dinner. There was a 90's themed dinner and a show we wanted to catch so we decided to get to dinner as late as possible which was about 7pm. I took a disco nap and a quick hot shower and was ready to go!
During dinner they paraded characters from the 90's in the dining room such as Belle, Judge Judy, Batman, a Power Ranger, a Pikachu, Sonic the Hedgehog, one of the characters from Dumb and Dumber and a character from Dances with Wolves on a wooden horse on wheels… The humor was not lost on us. After we finished our lemon meringue cheesecake, we headed over to the theater to catch the 90's tribute show which was basically a Broadway production. My husband and I were blown away with the performances and music we had not heard in years! The performers were excellent but our kids started to melt down. They were exhausted. As soon as the show ended we went to bed. We noted we should have gotten a sitter. Next time.
Sunday morning we rushed what we thought was our last meal and got to breakfast as early as possible. Checkout was at 11am and the kids wanted to swim before we hit the road. I'm glad I double checked at the front desk because checkout was actually at 2pm and we could stay for lunch. Yeah! More food! Honestly I was stuffed. I took the kids to the Indoor Pool and Splash Zone where they pretty much rode the winding water slide for two straight hours and allowed my husband to go back to sleep. Then the kids showered, we packed up the car and went for our last meal.
That last meal was a buffet where I mainly stuck with a seafood tower of shrimp, raw oysters and Alaskan crab legs (pretty much my dream meal). Our server gave us to-go cups so we could take the delicious water on the ride home. I bought a 6-pack of giant chocolate chip cookies for the kids to take to school the next day. We were so sad to leave but were already talking about our next trip as we exited Woodloch.
The Secret To Woodloch
I arrived not really getting it. What's "it?" Well, if you watch Hotel Impossible (I'm addicted) you see everything that goes wrong when an inexperienced family tries to run a hotel. Woodloch is an example of the exact opposite. When generations of a family put their heart and soul into a place and some go to the Cornell School of Hotel Administration, you can get a gem. The second generation now runs Woodloch but much of the third is very involved and some of the fourth generation are running things as well. You can tell they listen to the ideas of the younger generations which keeps Woodloch fresh and fun.
Yet, since their earliest beginnings, Woodloch has remained committed to a number of traditions. By far the most important one is the way they treat their guests … "It's as if they are company in our own home" (their original mission). This is what sets Woodloch apart from other places. You can see it from the top (John Kiesendahl goes from table to table at breakfast to make sure you are happy while wearing his funky pants) down to the person who pours your water. Every single person we came across at Woodloch was genuinely friendly and you could tell loved working there. Some employees have worked there their entire lives and members of their families have known no other job. Maybe it's in the delicious water.
That said, I can't thank Woodloch enough for the most enjoyable family weekend, the warm hospitality and making us feel like family. We were left with the desire to come back again.
For more information and to book your own trip visit Woodloch.com. 
SUMMER SPECIAL! Summer is a beautiful time to visit Woodloch and I have a special discount code for June 16-28. Simply use this link Summer Fun at Woodloch and the code; FOUNTAIN and you will save 25% on your stay! Hurry, because this special won't last.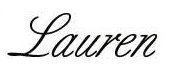 Disclosure: Trip was provided for review but opinions are expressly my own.
Are you following Fountain Of 30 on Facebook, Twitter, Instagram and Pinterest? We've got lots going on, so join in on the fun! Subscribe to our newsletter here.  You don't want to miss a post and promise not to bug you to death. Oh and we also started a Facebook Group called Aging Backwards! for women to discuss everything good and bad about being over 40.
Please pin!