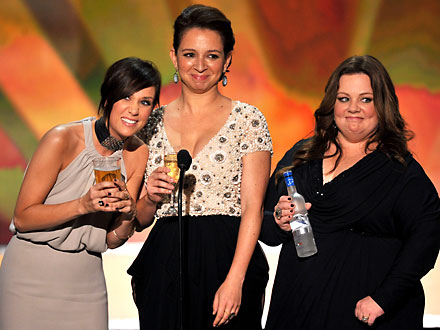 The
Screen Actors Guild Awards
may not have the acclaim of its awards show counterparts: The
Golden Globes
and the
Oscars,
but it's quickly building a name for itself with a stellar showing of top stars at each presentation ever year.  And of course, there's that idea that every actor and actress referred to on the red carpet when they were nominated and up for an award. This, of course, was the idea that these actors, actresses, and performances were nominated by their very own peers–the members of the Screen Actors Guild. There are things I love about the Screen Actors Guild.  The fact is, the Golden Globes may have someone like Ricky Gervais making jokes but no one gets loud and loose like they do at the Screen Actors Guild.  And yes, this not only refers to their one-line zingers (we all heard about that Bridesmaids drinking game featuring Martin Scorsese) but also to their clothing. There was a lot of risk-taking going on at the SAGs this year.  Perhaps the nominees are saving their glam looks for the Oscars coming up, but they're certainly eyeing up the simple and statement-making, but also risk-taking looks for the SAGs right now.  There was a lot of Calvin Klein Collection at the awards show this year, but there was also many unique get ups that worked (
Rose Byrne's Elie Saab
jumpsuit) and didn't (
Busy Phillips
looking, well BUSY, in prints.)
COLOR
Before I get into the real "risk-takers" at this event, I first wanted to present some of the bold color choices picked by the stars that made a statement for their hues rather then their hems.  After all, color can be just as important as fabric and style for a star to look truly dashing.
At first, I wasn't sure I liked this dress because of the sleeves.  It was ACTUALLY the color that sold me! Well done,
Julie Bowen
!
Jessica Chastain
is certainly a star in the making! From the news heard 'round the world that she learned of her Oscar nomination during the Armani Prive show to this gorgeous blue
Calvin Klein
gown, this actress can do no wrong! The dress just fits her perfectly.
OK, no one can say that
Jane Lynch
will ever be a style icon, and certainly not in the same category as
Glenn Close, Helen Mirren, or Meryl Streep
, but I can't say I hate this dress. I do like the color and the fact that a woman that is not known for being feminine is trying to play up her femininity.  Perhaps more jewelry on the neckline would have been nicer.
Here's what people said about the Glee cast:
Lea Michele
was trying to upstage everyone with her uniquely cut dress, while
Dianne Agron
seemed to hum along with a beautiful color and a serene smile on her face.  I do like how she's not trying to outdo anyone but still wearing a beautiful raspberry color.
Here's the big surprise of the evening:
Emily Blunt

!
Blunt only tagged along to husband John Krasinski, who was nominated as part of The Office. While John tried to do it up with a navy blue tuxedo, it was Emily Blunt who stole the show with this bright green
Oscar de la Renta
dress that wowed the crowd perhaps more than some of the award winners! Talk about going all out and looking great at the same time!
BEADS AND TEXTURE
Another unique and interesting trend at this year's Screen Actors Guild awards was the use of beading and texture to speak for the dresses.  While bright colors, mermaid and ball gown hems interesting necklines are beautiful, they show up every year.  Beading and texture on a dress does not.  Which is why it was so appealing to see it on so many of the stars this year.
While
Julianna Margulies
typically wears column dresses that accentuate her thin, beautiful figure, there's always something that makes those sheaths stand out. At the 2012 Golden Globes, it was the shine on her purple Naeem Khan dress. At the Screen Actors Guild last year, it was a plunging sweetheart neckline on a red YSL gown.  This year, she chose
Calvin Klein
, who I assumed would make her a beautiful minimalist gown that accentuated her best features. While he certainly did that, he also added embroidery to texture the dress which served its purpose as much as the beading on other gowns did.
The
Amsale
dress–kinda boring. But the floral tulle overlay says it all.
CUTOUTS
For better or for worse? The cutouts trend made an unexpected return to the red carpet.  As long as they are well-placed and in the appropriate places, I don't mind them. What do you think?
DIPS AND DRAPING
Not the best looks of the night, but I do like the daring dips and the unique draping elements in these gowns. This is what make them stand out during the evening.
SLEEVES
Ahh, the return of sleeves. At first I thought
Michelle Williams
had something unique on her hands when she decided to go long in a beautifully textured, but conservative
Jason Wu
dress at the 2012 Golden Globes. I was not surprised to see her wearing sleeves again at the Screen Actors Guild Awards and I have a feeling she will come back with it at the Oscars.  But alas, imitation is the sincerest form of flattery and suddenly, sleeves are the "thing to do" at awards show.
Sleeves, yes. Grey color, yes. Vivienne Westwood, yes. Brown belt, NO.
SWEETHEART NECKLACES AND TEA DRESSES
Perhaps a throwback to the 50s? Sweetheart necklines and tea dresses came out to shine at the Screen Actors Guild Awards, but with a modern twist.
THE DARING AND THE BEAUTIFUL
These lovely ladies wowed us with looks that might have failed on others, but worked on them. Yes, Lea Michele was on overkill, but I had to include her on this list.
Normally I would see someone in a glittery jumpsuit and I would scream, "Fashion no no!" But something won me over about this look on Rose Byrne by
Elie Saab
. Perhaps it was the fact that it was Elie Saab. No, that can't be because some designers looked atrocious on other stars.  And then I realized it was because while absolutely stunning,
Rose Byrne
was also having fun with this look—going for a complete 70s moment with the short bob and bangs and the palazzo pants. And it fit her perfectly!
WORST DRESSED
And now for the looks that killed the show! In the words of Second City Style, "WTF were they thinking?!"
I love
Badgley Mischka,
but apparently they don't know how to design for plus-size women? Who would put a large bow on a woman who already has a large chest? While yes, in theory, the dress fit her well and we do like that she went with the knee-length, that HUGE bow is so distracting that it kills the whole look .
In the words of the
Red Carpet Fashion Awards
, "The dress would be perfect for a casual afternoon in LA or a more laidback event like the 'Independent Spirit Awards', but it's far too casual for a major awards ceremony." Not to mention that the print is fairly ugly and the dress doesn't have flatter her at all! Enough said!
For some reason,
Heather Morris
thinks she's at the world premiere of Grease. I'm not sure what's up with her Sandra Dee after the makeover getup but it doesn't work for the SAGs.
While
Shailene Woodley
wowed us at the Golden Globes in glittery
Marchesa
, this dress doesn't do it for her. Again, a casual look at a hi-profile event. Yes, we get it, Shailene. You wanted to go with a tropical print theme similar to the setting of your movie
The Descendents
. It just doesn't work here. —Simona Kogan
Photos: People.com, Instyle.com, Dailymail.co.uk, The Fashion Patrol