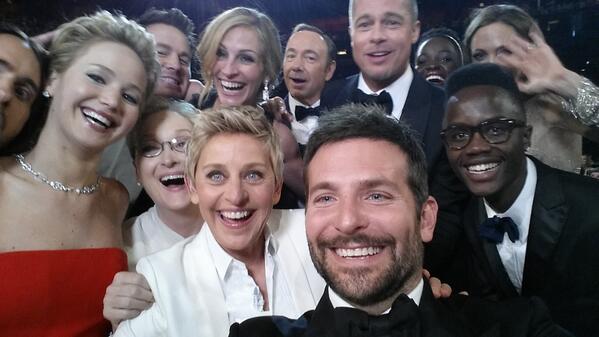 Was the
86th annual Academy Awards
the moment we've all been waiting for? Perhaps. While it did have its fair share of surprises — Ellen's celeb selfie heard 'round the world and
Jennifer Lawrence
's face plant — and predictable wins — oh come on, everyone KNEW
Lupita Nyong'o
would steal the Supporting Actress glory — I was truly surprised by one thing. Lack of color on the red carpet. Yes, there was red and sparkle and (gasp!) navy blue – but the biggest trend of the night? Black and white! I really thought the celebrities would be more risk-taking this time around — and alas, they were, in the embellishment department. But not in the bold color department. With a few exceptions, of course. Even Ms. Nyong'o, the color queen of this year's awards season, went for a bold, bright hue. Other moments of fashion glory people will be talking about? Well, besides Pharrell's hat, of course.  
Anne Hathaway
's rebellious but glamorous turn in Gucci (now why didn't she wear this last year?)
Kerry Washington
's glamorous pregnancy glow (she's been looking great all season!) JLaw's backwards necklace.  And
Kate Hudson
's cape! These pieces make me believe in fashion again. Without further adieu, the best dressed celebs at the 86th annual Oscars!
Cate Blanchett
wasn't the only one in a flesh-colored gown for the Oscars, but she certainly was the most dashing! That is, until she uttered the words "Julia, hashtag suck it!" Perhaps I forgot to mention that nude does seem to be making a comeback. Or flesh-toned gowns, rather, not being in the nude!
Jennifer Lawrence
never ceases to impress in Dior, even wearing a color she's worn before — though the peplum side embellishments on this Dior gown, coupled with her slicked back hair and backwards necklace, are  beautiful.
Must I say it again. Why didn't
Anne Hathaway
wear this on the red carpet last year? I think Ms. Hathaway learned a thing or two from all of of last year's "Why Do I Hate Anne Hathaway?" articles. (And believe me, there were plenty!) She's toned it down in a beautiful subdued, somewhat tomboyish yet androgynous way that really works for her.
Emma Watson
cuts a gorgeous figure in anything she wears.
Those embellishments are really working for the stars this season. They've let go of bold colored floor length ball gowns in favor of toned down hues with other details, that speak volumes! Just look at
Jennifer Garner
and
Jessica Biel
(both presenters) who pretty much competed with the Oscar nominees in the fashion category. Both look ravishing. (Though I'm still trying to figure out what they're really doing at the Oscars…)
I think
Kerry Washington
may just be the most beautiful pregnant woman I've ever seen! And she definitely finds the right colors for her skin tone every time!
I adore this fit on
Idina Menzel
.
I DO NOT adore this fit on
Viola Davis
, but kudos to the actress for wearing a color when there was so much nude, black, and white on the red carpet.
A bit try too hard and I don't like the two tone texture, but
Jenna Dewan Tatum
can make a paper bag look good.
I was kind of hoping that
Lupita Nyong'o
would wear a bold color like the oranges or reds she's been wearing, but alas, she toned it down for the Oscars in light blue. I do find it refreshing that she chose to wore Prada, an unconventional name on the red carpet in my opinion and something we've haven't really seen her wear before.
I always like when
Lady Gaga
chooses to look more like the rest of the crowd and doesn't try too hard to stand out, though at the same time, I find this Atelier Versace gown really gorgeous. And yes, it looks stunning on her.
Funny enough, it was
Chrissy Teigen
who looked more like everyone else did about 2 years ago at the Oscars, wearing this print Monique Lhuillier.  We can't argue that the dress isn't stunning, though, as is practically required of a Monique Lhuillier piece.
When I saw this gown for the first time, I thought it was white, but alas, the one-shouldered Giambattista Valli gown is blush-colored.  I guess you could say it looks like a modern toga dress and I mean that in the nicest way possible! I do like how the fabric wraps around
Penelope Cruz
's shoulder on one side and her arm on the other, and I'm impressed with Penelope's look here. Though, it doesn't look as great in the back.
The Navy Trend
For most gorgeous ladies of the night, the Oscars go to…
Amy Adams, Sandra Bullock
, and
A
lfre Woodard
in their stunning navy blue gowns!
Black and White
While you could say wearing black or white to the Oscars is the most predictable fashion trend of all time, celebs did try to oomph their looks with curvaceous cuts and stunning silhouettes. When you have a designer like Naeem Khan designing your dress (as he did for
Portia de Rossi
) you know you're going to have some kind of gorgeous applique or embellishment. And as for
Kate Hudson
and amazing cape situation, well, well there are no words to describe  that unique and striking creation. Best of all, kudos to 18-time nominee
Meryl Streep
for wearing both black and white and continuing to look modern, trendy, but age appropriate.
 Best Dressed Couples
This was a tough one to call as there were a good number of well-dressed couples at the event. (Notice how
Olivia Wilde
and

J
ason Sudeikis
and
Will Smith
and
Jada-Pinkett Smith
are not on the list.) I decided to stick to couples where both man and woman held celebrity status (although this could be arguable for both
Elsa Pataky
and
Camila Alves
.) But I HAD to include Elsa Pataky because her Elie Saab dress made her look like the most glamorous pregnant woman of all time (next to
Kerry
Washington
, of course.) And Camila Alves, well, she looks gorgeous in anything.
–Simona Kogan Photos: E! Online, People.com, The Ellen Show (@EllenDeGeneres)