Let's not talk about the fact that men and women in their 20s are playing teenagers. (If you don't believe me, just take a look at Glee.) But since that's always been the case, it goes out the window here. I'm here to talk about teenagers. Pure, pubescent teenagers who are actors, singers, dancers, entertainers and celebrities. We could mention the over-sexified Christina Aguilera and Britney Spears, if you will. But that was then and this is now.
The fact is, teenagers these days are not only celebrities, but fashion icons.  And we're just wondering how young you have to be to make an impact in the fashion world. And when you do, are you going for over-sexualized or over the top?
Have you heard of the 10-year old model? She's making a name for herself.  Or the mother who gave her 7-year old daughter Botox treatments.  Children and teens are growing up fast these days.  That's why we must take a cold, hard look at our celebrity role models and see if they're doing it wrong—and right—and we'll start in the fashion department.


Miley Cyrus has gotten a lot of flack for what she wears and how she's growing up too soon, smoking bongs with friends and getting tattoos.  Her lifestyle doesn't help much and neither does going through her parent's divorce. (Wait, they're back together, right?) It looks like her fashion follows suit and she is often seen wearing see-through shirts, midriff baring tops and peekaboo bras.  Yet, she's considered a teen role model.  Recently, she also wore a very sophisticated grown up black black gown that had many wondering, "Did this teen sensation grow up too soon?"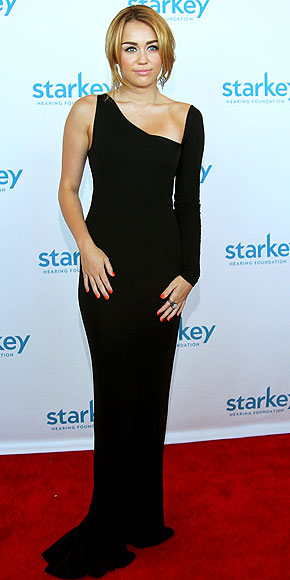 The Teen Choice Awards happened this past week and while yes, most of the awards went to celebrities who were not teenagers, this is a case where I must mention the over-20 set and what they were wearing because teens were watching them! Don't you think a certain 14 and 15-year old Kendall & Kylie Jenner are growing up a little too fast? Granted, their half sisters are some of the richest, most well known women in the world, but still…


I must mention Lucy Hale's dress, because she was the reason that got me writing this blog in the first place. Lucy, as you know, is the star of the new ABC Family show Pretty Little Liars. She plays a 15-year old with a keen fashion sense keeping secrets, and yes, dating her teacher!! And while yes, this is an ABC Family show and we know it's not as rated G as we thought, we still thought 22-year old Lucy would wear something that was fashionable, without being oversexed.  And while yes, she won in the fashion department, she didn't in the oversexed part.


Then there's of course, Madonna's daughter–the beautiful Lourdes Leon.  This 14-year old already has her own clothing and beauty brand and she's already a fashion icon to many. Kelly Osbourne, the face of Material Girl, has talked of feeling close to the girl who is more than 10 years younger than her. If you've seen pictures of Lourdes, you know that she is always dressing older and caking on the heavy black eye makeup.


Ironically, as she's just released a beauty line, she showed it off wearing pulled back hair, little eye makeup and bright red lips with her polka dot shirt and white Doc Martens.  Do you recognize her?


Well, if people like Miley and Kylie are doing it wrong, then who's doing it right?


Definite not Selena Gomez, who was seen in a chest baring ensemble when she met her celeb idol Shia LaBeouf!


We'll have to give the prize to Hailee Steinfeld, who has looked dapper for the Golden Globes, the Oscars and every other big event she's gone to lately. She actually dresses her age! Who says a celebrity can't have a little fun once in a while! Especially one in their teens!
–Simona Kogan
Photos: Zimbio, Daily Mail, MTV, Wireimage, People.com, Selenagomez.com, Celebuzz, Latestbeauty.com