The
84th Annual Academy Awards
had major buzz.  Not only is it the biggest film awards show of the entire season but the best looks from the biggest stars in the world are said to be on that red carpet.  So perhaps we always expect too much, but shouldn't we? The movie stars and celebrities are in their element. Which is why it's hard when the Oscars become a bit underwhelming as they did this year. Sure,
The Artist
won Best Picture and
Billy Crystal
gave a stellar beginning monologue, but the dresses weren't the bold, stand out, statement looks we wanted to see.  Perhaps this was exemplified when the biggest news on the red carpet last evening was (besides
Sacha Baron Cohen
dumping ashes on
Ryan Seacrest
) that
Angelina Jolie
was showing a little leg. How bold, Angelina! Pardon the sarcasm, but we were hoping for more! Nevertheless, there were dresses that stood out in an overall drab collection of celebrities.
Red Carpet Stunners
We've come to expect that when a star shows up at a designer's runway show right before the Oscars, she's going to be wearing that designer to the Oscars.  Ironically, this wasn't the case for
Jessica Chastain
, who got the call that she was nominated for an Academy Award during the
Armani Prive
show and it wasn't the case for Rooney Mara, who wore Givenchy even after we spotted her at Fall/Winter 2012-2013
Calvin Klein
.  But it WAS the case for
The Help's Viola Davis
, who wore a stunning green
Vera Wang
gown with pleats at the bottom and embellishments on the chest.
Here's another example of a girl who upstaged her actor nominee boyfriend (or hubby) when she really had no reason to be at the Oscars other than the fact that he was there.
  Emily Blunt
did it in a bright green
Oscar de la Renta
dress at the
Screen Actors Guild Awards
and
Angelina Jolie
did it in
Atelier Versace
with boyfriend
Brad Pitt (
OK, so she was presenting, too.) We knew that
Stacey Keibler
would be going to the Oscars with boyfriend
George Clooney
. We also knew she would be wearing
Marchesa
to the big event (she talked about it at Marchesa's Fall/Winter 2012-2013 collection runway show.) But we had no idea she would pick this gold lame Marchesa gown should column straight off the catwalk.  We liked that people were comparing her to an Oscars statuette because she certainly looked like one. Sorry to say, don't think she'll ever actually be up for one.
Angelina Jolie
stunned in an velvet
Atelier Versace
gown (worn in her signature black) with an architectural top. What really stunned, though, was the amount of leg she showcased on the red carpet.  She was all about that thigh-high slit! You go girl!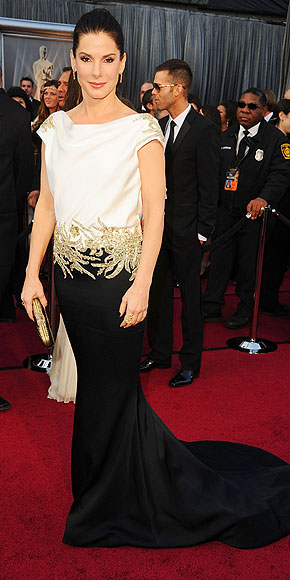 People.com called
Sandra Bullock
a "risk-taker" for wearing this
Marchesa
dress, and yet, I thought it was absolutely stunning and quite conservative in comparison.  The shoulders were covered and perhaps the most "risk-taking" aspect was the detailed gold leaf embellishment on the waist.  Sandra Bullock wasn't nominated for a Best Leading Actress role this time, but she might as well have been. She looked better than some other–ahem–nominees on the carpet.
Has
Tina Fey
hired a stylist in the past few years? That's still the question on everyone's mind. A few awards shows in the past had us adding her to the Worst Dressed list but she's really upped the ante lately! The 2012 Oscars are no exception, where Fey was seen in a stylish but not overly dramatic navy
Carolina Herrera
number, with a trendy addition–the peplum! How's that for fashion?
Red
There's a reason why all the fashion insiders are calling it, "The Year of the Peplum!" The peplum shape was featured heavily on all the major runways and now it's being carried over to the red carpet.  The
Louis Vuitton
dress is nicely textured and sit well on Williams' petite frame, but I'm just not sure she looks good in red (actually this dress was more of a poppy hue). I was hoping for a navy blue, a frilly yellow, or even white–red just doesn't seem to work well on her. Regardless, in a night of underwhelmers, the dress stunned.
One can argue that this dress isn't actually red–it's polka dot! But perhaps it should have just stayed red.  The black polka dots on this strapless red vintage
Christian Dior
haute couture gown makes Oscar winner
Natalie Portman
look tiny and cutesy in comparison to the bold purple Rodarte gown she wore last year when she was pregnant.  Nice that she's wearing Dior (and has lost all her baby weight) but not nice that she chose this particular gown.
Emma Stone
regularly makes noticeable red carpet appearances. She was one of the first celebs we saw in the peplum (it was pink and red.) She showed up at the
Calvin Klein
runway show this season in another red ensemble. And here she is in red again! But what's with that giant bow around her neck. The halter top is bad enough, but that bow makes it stand out way too much. This is an unfortunate mishap from a stylish red carpet favorite.
White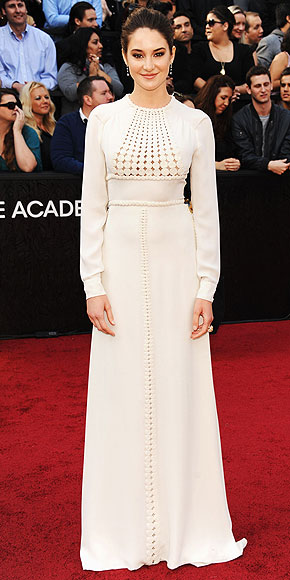 The Descendents star
Shailene Woodley
may have LOVED her
Valentino
haute couture gown, but it seemed that everyone else hated it! She was obsessed with the long sleeves, but that was probably the only thing good about it.  Woodley may want to pull off the "mature" look but this dress was way too much for someone her age and she would have been better suited in a cuter dress, say
Natalie Portman's Christian Dior
, or even
Sarah Hyland's Alberta Ferretti
dress in a bright violet color.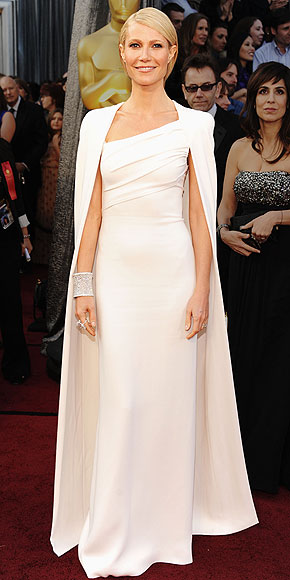 Well, if it isn't the cape! When they aren't wearing peplums, the stars are wearing the next best trendsetting item of Fall/Winter 2012-2013. Or at least they're wearing designers who use that trendsetting item. In this case,
Gwyneth Paltrow
wore
Tom Ford Fall 2012
straight off the runway and looked smashing doing it. She even removed the cape when she presented an award and only wore it on the red carpet. She looked gorgeous and totally toned.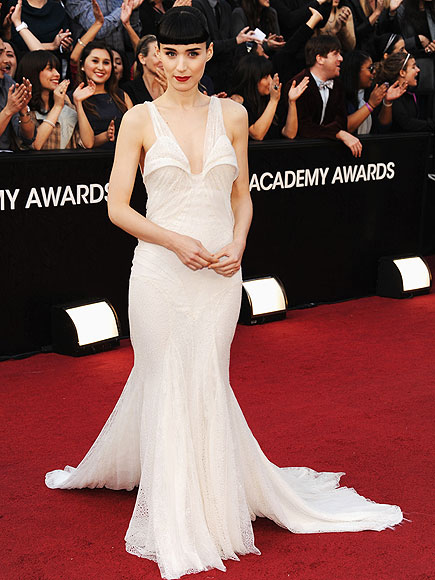 We're guessing since
Rooney Mara
made heads turn in
The Girl With The Dragon Tattoo
and her character spawned a limited-edition collection at H&M that the world assumes that Mara is going to wear bold and tough looks with lots of leather, ripped jeans, and gobs of black. And indeed, she has, at many a movie premiere despite wearing gowns and dresses to many red carpet events.  This was a nice change for Mara, who is very rarely seen in something so bright and vivid, without the sleek side part she has become accustomed to wearing to "dress up her look." Although I'm not a fan of the way her chest looks, I'm a fan of Rooney Mara's new ladylike turn.  May there be more to come!
Asian actress
Li Bingbing
stunned perhaps more so than some of the red carpet favorites. What stood out about her sleek white gown by
Georges Chakra
? The texture, of course! Giving it almost a metallic sheen with a floral feminine vibe, Li Bingbing added stunning 18kt gold, pave diamond Maple Leaf earrings to complete her look.
We were hoping for something Armani or Chanel! Another underwhelming gown, especially at such a big event but at least the Prince and Princess of Monaco made an appearance at the Oscars!
Sparkle
Milla Jovovich
is a first time presenter at the 2012 Academy Awards and she wanted to make a flash on the red carpet.  Well, that she certainly did and in a clean and elegant
Elie Saab
look for the big event. Elie Saab, as we've seen time and time again (and even more so lately) is a hit with the celebrities who want something spectacular to make a flashy but elegant red carpet appearance. That's exactly what Milla Jovovich did here.
In another glamorous Elie Saab number, The Artist star
Berenice Bejo
wowed in a mint green beaded
Elie Saab
gown with a deep V neckline. Red Carpet Fashion Awards said she was missing the wow factor.  Our theory? It was because the deep V neckline made her breasts look like they were sagging. It just wasn't the right look for the now A-list star.
Octavia Spencer
said she'd stay true to her designers of choice and she has.  She looks stunning in this
Tadashi Shoji
white and gold beaded number that covers her skin but still stays nipped and tucked in all the right places.  This is a winner for Octavia Spencer and she needed it–the actress was in full view when she got up to accept her Best Supporting Actress win at the awards show in the first big actor/actress win of the night!
We're not so used to seeing so much sparkle from
Diane von Furstenberg,
but
Anna Faris
makes it work.  Many said she looked too similar to
Rose Byrne,
who wore a similar
Vivienne Westwood
number (minus the sleeves.) But the sleeves (besides the glitter) are really what makes this outfit pop and we're happy to see her in something statement-making without it being over-the-top. Definitely not something for the Worst Dressed list (although maybe Second City Style readers wouldn't agree?) What do you think?
Others 
Penelope Cruz
said this is one of her favorite dresses she's ever worn. But while the lavender
Giorgio Armani
gown fit her perfectly (Armani DOES have that effect on a woman) we're not sure it's the best we've ever seen the star look.  I'm more a fan of the Chopard jewels and the retro hairdo than I am of this color or the open shoulder sleeves on Penelope.
Jessica Chastain
had the phone call heard round at the
Armani Prive
show when she learned she was nominated for the
Best Supporting Actress Oscar
as she sat next to
Cameron Diaz
.  She was probably already shopping around for an Oscars dress and at the time, we weren't sure if she was going to pick Armani Prive or not, but we sort of assumed she was. So it was a big (and pleasant) surprise to see her wearing this
Alexander McQueen
embroidered number that she said "felt larger than life." Indeed it was and the perfect way to capture her first ever Oscars experience, even one where she didn't win!
In what is perhaps the Best Dressed of the night:
Miss Piggy
wore stylish
Zac Posen
and
Kermit the Frog
stunned in
Brooks Brothers
! Photos: InStyle, People.com, –Simona Kogan