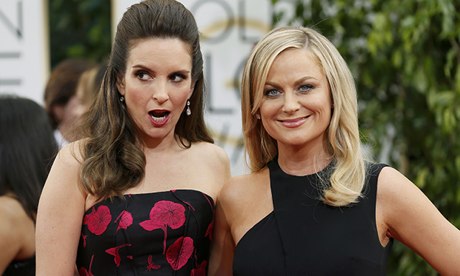 The
Golden Globes
were upon us again and you know what that means – time to talk about celebrity style at the show. I'm not sure what the readers are going to say about my opinion this time around – but I'm just going to come out with it. The show itself was good, but the fashion wasn't – at least where the A-listers were concerned. I did not like many of their looks and I felt they were outshined by the not so well known stars. That's a nice way of putting it. What was once a fabulous fashion year for celebrities like
Jennifer Lawrence, Cate Blanchett, Sandra Bullock
and more was not so this time around – at least not at the Golden Globes. Maybe you beg to differ. Let me know if you do.
Did These A-Listers Look Their Best? 
Cate Blanchett
, while always a standout in my book, depressed me with this disappointing lace number from
Armani Prive
. I know that she loves wearing the label, and I know that the brand was trying to do something different, but I felt like it was too goth for the style star.
The
Carolina Herrera
gowns at this year's Golden Globes (in this case,
Taylor Swift
and
Julie Bowen
) had one thing in common. Color blocking. Carolina Herrera is the premiere ladies who lunch designer and her gowns always follow suit, but in the past few seasons, it seems like she's pursuing a younger crowd and a vibrant color scheme. For example, someone like Taylor Swift can wear one of her gowns – but someone like Julie Bowen, not so much. This doesn't seem to be the right look for the Modern Family star. The cap sleeves in combination with the color and the velvet and her hair, make it look like she's trying to be girly when in essence she's a beautiful grown woman. Still, the gown, in essence, is stunning.
Color blocking was totally in trend at this year's awards show.
Not to say that someone like
Sandra Bulloc
k can't pull off the look, but for some reason, it's still surprising to actually see it on her. While in theory, I'm glad she's taking it outside her perfectly ladylike and tailored comfort zone, I don't like the wrinkles in the front of the dress. I also don't think it's the right dress for her.
I know what you're thinking…is
Kaley Cuoco
really considered an "A-lister?" Well, her recent wedding has certainly put her everywhere in the news as of late. Not to mention that people seem to be criticizing her every style move. I'm not sure how I feel about this colorful number. Granted it's unusual and vibrant and fits her perfectly. Despite that fact this designer is certainly talented, this dress screams rumpled and girly Kaley Cuoco. Is that necessarily a good thing?
In theory, this dress is gorgeous and experimental. But for the Golden Globes? While this is totally in the style of
Zoe Saldana
, I think the actress made a big boo boo.
Again, another dress that looks great IN THEORY. But I think Uma could have wowed with a better choice. I can't believe so many A-listers missed the mark this time around.
And now the statement-making Dior dress worn by
Jennifer Lawrence
. This dress earned many an imitation picture on Twitter. And I can see why. While the tulle is pretty, it is completely akin to a trashbag. I know JLaw said she wanted to be experimental, but this just isn't cutting it.
Raf Simons
, I insist you remove that second black strap at the bottom because it completely ruined the dress!
Allison Williams
once again pulls out the edginess for the awards show. She did it at People's Choice and now she's doing it once again at the Golden Globes with a zebra print. Do I think she made the right choice with this
Alexander McQueen
number? Not exactly. I'm used to her streamlined looks and this fuzzy one doesn't cut it for me. I do like the structure of the gown but the fuzziness threw the whole thing off in my book.
Yes, this is
Lena Dunham
and no, she doesn't have a stick thin figure but at this point, I'm not really surprised by anything she wears. I almost feel like this yellow number is something she's worn before. Or maybe it just looks like something she's worn before. The fabric is nice and its the beauty of a
Zac Posen
ball gown but honestly, it's also been there, done that.
I hate to say it but before
Sofia Vergara
it's another been-there, done-that look. I was hoping she would go a little out of the box. I know she cuts a mean figure, but the ball gown overwhelms and there's nothing impressive about the detail or the black, except that the turquoise necklace caught my eye. But it's not totally horrible either. Sofia Vergara could look gorgeous in a brown sack.
Ahhh another experimental
Dior
look. I know that people will be talking about this gown today because it's quite controversial. The split open back and the pants showing makes it look quite unusual but also quite too casual for the Golden Globes at the same time. I'm torn.
As mentioned, present day
Carolina Herrera
suits
Taylor Swift
, but I was hoping for more glitz and glam.
I know that when pregnant, dressing for an awards show can be difficult for a celeb. But there are the celebs who kill it (Jennifer Garner, Jenna Dewan-Tatum) in a good way and there are the celebs that don't. I hate to say it but
Kerry Washington
, who normally impresses me with her ensembles does not dress well for a pregnant celeb. At least not where this
Balenciaga
gown is concerned. It doesn't wow me at all.
I'm impressed by this dress on
Kate Mara
except for the fact that her hair is so white blonde at this point, it almost matches. Never wear white when your hair is that light. If she was still a redhead, her tresses would pop against this dress.
Nice color and nice streamline on her dress, but blah and boring for
Reese Witherspoon
.
Does
Amy Adams
suddenly think she needs to consistently show off her cleavage? She looked great in American Hustle, but I would have preferred her in something more risk-taking in the design department and less plunging to make a statement.
Another pregnant look I don't like and this time it's not because it's too minimalist. In fact, this
Monique Lhuillier
gown on
Drew Barrymore
is not minimalist in the slightest. it's too overdone, too babyish, too bohemian and too girly. I would have much preferred her in a look like the one from the
People's Choice Awards
by Vionnet. That one was also casual, but at least it was pretty and not too over-the-top.
These Stars Impressed 
Not all of the following celebs are considered A-listers, but
their fashion impressed me far more than some of the A-listers
last night. The ladies who make us laugh are also wowing in the style department. I'm pretty fond of
Kristen Wiig
and
Melissa McCarthy
's fashion lately, but it's
Amy Poehler
and
Tina Fey
who really wow as of late. Amy always looks good in her top choice
Stella McCartney
and Tina Fey has been kicking it up a notch for a while. I love she always plays up her feminine side with design
This is probably my favorite
Atelier Versace
dress of the entire evening! Love the color!
There's something about the styles chosen by
Elisabeth Moss
that are just so perfect. To be honest, I have no idea if she has a hand in picking out her ensembles or if it's her stylist's job, but I always think she looks stunning in whatever she chooses. She always has that right hint of statement and everything she wears seems to fit her like a glove!!
I haven't been a fan of anything
Heidi Klum
has worn as of late, especially in the past few years at awards shows. Even when it's
Marchesa
, there's always something wrong or a little too much cleavage showing. I can't say that about this black and white floral stunner because it's absolutely stunning, feminine and I even like her hair down. What do you think?
This dress has everything from gold detail to the right amount of skin showing and the perfect fit for
Julianna Margulies
.
I'm in love with this color, this minimalism and the off-the-shoulder cape look. WOW!
Seriously, does
Helen Mirren
ever do anything wrong? She's probably the only woman her age who can pull off a look that is typically worn by someone many years younger and still make it look age appropriate and not over-the-top. I don't know what it is!
Not a huge fan of the slit, but I do like the design of this dress and I think it works well on
Emilia Clarke.
The detail of this bodice is just exquisite.
Without a doubt, the best dressed pregnant woman this entire evening!!!
There's no better way to end this post then with this beautiful
Oscar de la Renta
dress! –Simona Kogan
 Photos: Just Jared, People.com, Huffington Post, The Guardian