Oh to be a celebrity, and have the opportunity to go to St. Tropez, Jamaica, Ibiza or some other gorgeous tropical island at the drop of a hat! Jennifer Aniston hugged Justin Theroux in Hawaii, Kate Hudson was in the French Riviera, and Beyonce spent time with husband Jay-Z in St. Bart's.
But besides frolicking in the ocean, feasting on local fare, and wearing their sexiest swimsuits, these stars live like–you guessed it, STARS! Of course, that means getting pampered and living the good life. And in the cases of Kate Moss, and Rihanna, it means jumping from a yacht.  Yep, you heard me right.


We're already jealous of the fact that these celebs even get to set foot on a yacht.  But we were especially jealous when Kate Moss vacationed on at least 3 yachts during honeymoon with new hubby Jamie Hince. One of which was her friend Sir Phillip Green's yacht in Corsica between Cannes and Italy's west coast.  Sir Phillip Green, in case you didn't know, is the owner of Topshop.
And then, she was captured jumping off one of the yachts topless. Well, if you were Kate Moss, wouldn't you? Is skinny dipping the new fashion?
After the honeymoon, Kate continued looking glam at one event after another.  Apparently, she and her husband went out three nights in a row! One event was a private view of Jake or Dinos Chapman's exhibition at the White Cube Gallery in London and Kate showed off her tan in pure Kate style, wearing a metallic minidress.  Yachts…silver sequins…if you don't envy her yet, you will soon.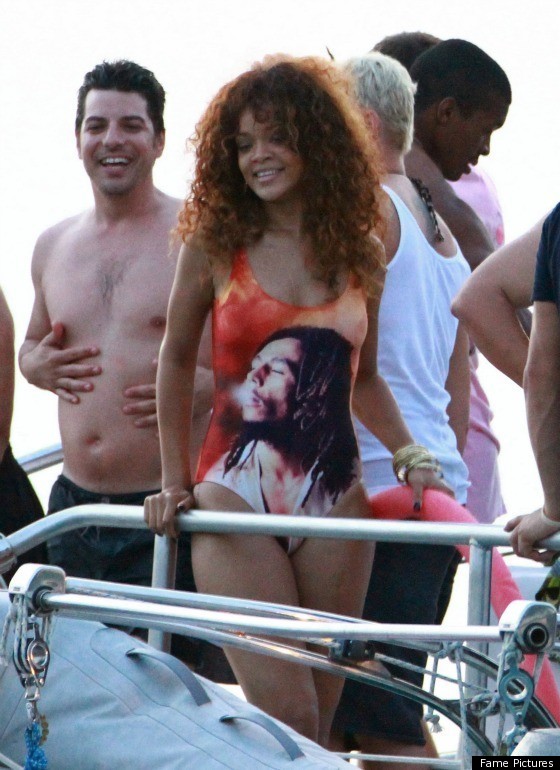 Here's another A-lister to envy. While Rihanna didn't have the privilege of having the paparazzi catching her jumping off a yacht topless, she did, in fact, jump off a yacht during an excursion in her native Barbados.  The singer was partying with friends and jumped off the boat for a late night swim.  While she is known to wear very teeny-tiny bikinis, ironically, she chose to wear a one piece on this one.  Perhaps that one piece, though, made more of a statement then all of her other bikinis combined.  This one was red and had the face of Bob Marley on it. We're thinking one-piece bathing suits with faces and logos emblazoned, a la Rihanna, will be the next big thing in the coming year!


Those aren't the only celebs to be seen on yachts in the past year.  Add Sienna Miller, Bar Refaeli, Naomi Campbell, Fergie, and Rosie Huntington-Whitley to the list!
Also, Beyonce and Jay-Z in St. Barts of course!


And Giorgio Armani was seen on yacht in a Speedo, remember? We want to forget!
Now if you thought bathing suits were the only things in fashion this summer, think again! It's time to pay homage to the little trend called the luxury yacht.
Photos: Zimbio, Dailymail.co.uk, Celebritiesonyachts.wordpress.com, Therichest.org
—Simona Kogan